In the upcoming film Meenakshi Sundareshwar, Sanya Malhotra and Abhimanyu Dassani are paired up on-screen as an arranged marriage couple of two completely different personalities who find love and hope in each other.
The teaser opens up with Sanya Malhotra's voice-over who seems to be teasing her future husband: 'I know you're nervous, but making a nervous person further nervous is fun for me', the teaser then moves on to the wedding ceremony of the two after which we're introduced to Dassani's character where he is asked by Sanya that why should she consider him to which he replies 'Ma'am because we're Engineers and Engineers make the best husbands' when asked 'How?' he answers back 'We don't give up that easily, be it engineering or relationship, once decided we always complete it.'
We can conclude by the teaser that Sanya plays the role of a feisty and fearless woman with a cheeky personality who is a fan of Rajnikant while Abhimanyu's character is a straight-forward person with calm demeanour and great comebacks who is not a fan of movies as they apparently put him to sleep.
In the teaser, it is also revealed to the audiences that the couple are in a long-distance romance connecting each other over video and phone calls. The long-distance plays an antagonist as the newlyweds who had taken their first step to the institution of marriage faces problem because of which the turmoil and disturbances crop up in their relationship.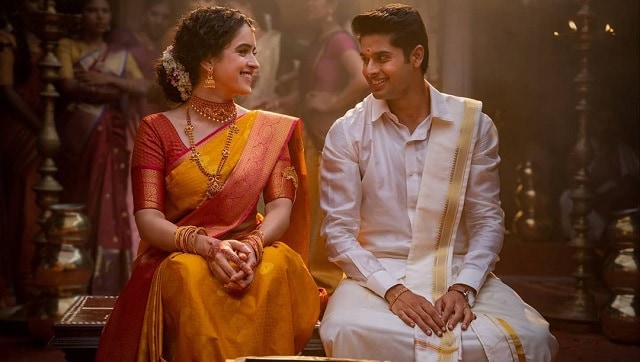 The film marks the digital debut of Abhimanyu who is the son of veteran actress Bhagyashree while Sanya has already been a part of two films which were released on OTT platform.
Meenakshi Sundareshwar teaser portrays a unique love story and the film is directed by Vivek Soni and produced by Karan Johar's Dharmatic Entertainment, the digital wing of Dharma Productions, it will premiere on the digital platform Netflix on November 5.