Though the marriages are made in heaven, it is the hearts that get connected on earth that culminates into a marriage between two human beings. This connection proves to be crucial in any kind of marriage, be it a love marriage, arranged marriage, or even in case of love cum arranged marriage.
Meenakshi Sundareshwar streaming now on Netflix digital platform was a picture-perfect tale of marital bliss that takes place between two hearts who get connected through an institution called marriage.
https://snooper-scope.in/meenakshi-sundereshwar-teaser-portrays-a-unique-love-story/
Synopsis
An Engineer Sundareshwar aka Sundar (Abhimanyu Dassani) who is more attached to coding rather than with girls accidentally meets Meenakshi (Sanya Malhotra) and enters into wedlock with her due to divine intervention.
Sundar lands up in a job in Bangalore and the catch is he should be a bachelor to continue in his job so he fools his boss and the company to dedicate 100% of his time and devotion to duty.
Poor Meenakshi who is a hardcore Rajinikanth fan has no choice except to find solace in long-distance relationship. But how long and how far is the million-dollar question that disturbs Meenakshi who decides to call it quits after going through a hard phase. But Sundar doesn't want to call it off so he quits the job and goes in search of Meenakshi who could be located cheering 'Thalaiva' in a theater.
Performances
Meenakshi and Sundareshwar are two distinct and different characters who are poles apart in their hobbies, interests, and lifestyle. So both Abhimanyu and Sanya have to reflect that variation in their characters which they have done quite competently.
Abhimanyu was successful in portraying his character of a young man who wants to make it big in life. Meanwhile, Sanya oozes a lot of confidence and flamboyance required for the character of Meenakshi and she breathes life into the character with her amazing performance. She not only looked beautiful but her terrific screen presence makes a stronger impact all through the film that cannot be undermined.
Ritika Shotri as Mukai, Kalp Shah as Rasu, and Suresh Arora as Senthil stand out among all other actors despite their brief screen time.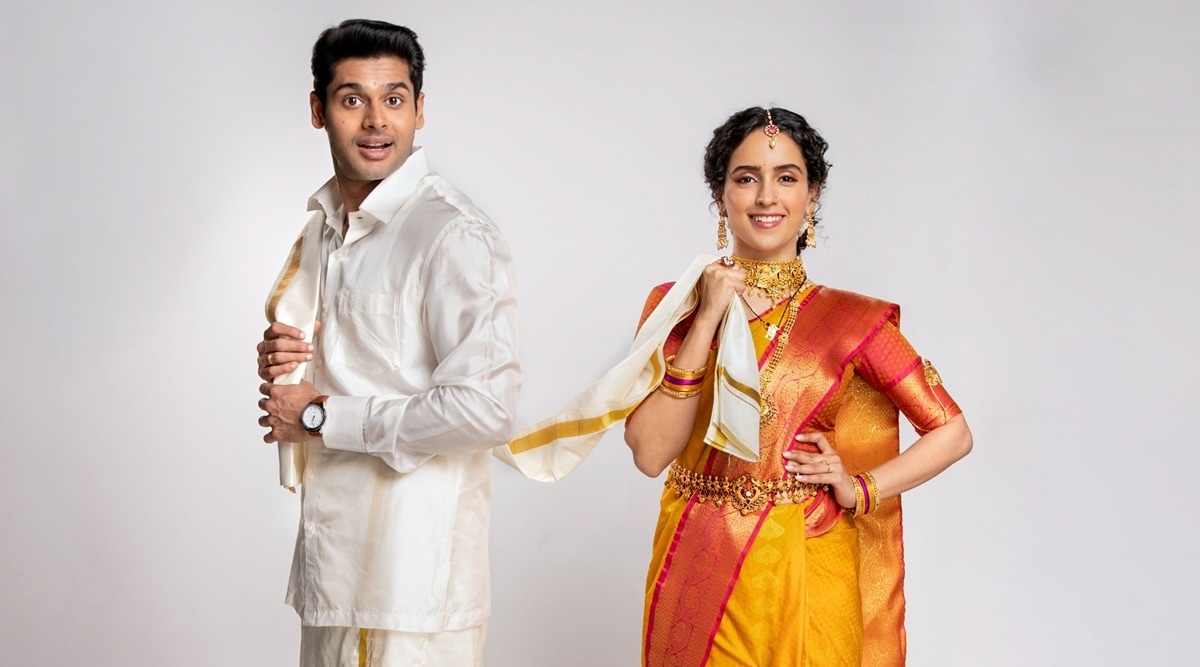 Behind the scenes
The treatment given to a not so novel storyline by the director-writer Vivek Soni was commendable. The story written by him along with Aarsh Vora is not something that can be boasted about but the way he made it look interesting on-screen by selecting Madurai as the backdrop and adding the Rajinikanth flavour to the narrative gets him positive results.
Some scenes conceived and presented by Vivek like the one on roleplay and that zig by Meenakshi on the road stand as testimony to his creative bent of mind.
The songs composed by Justin Prabhakaran along with his background score was the real backbone of this film. The songs sounded perfect with the singers (many are there) rendering all those lines mellifluously.
The cinematography by Debojeet Ray was another asset that added more sheen to the narrative.
Final Verdict
The plot was predictable but still, the innocence of Sundar and the smartness of Meenakshi makes Meenakshi Sundareshwar a picture-perfect tale of marital bliss where the understanding and compatibility between husband and wife matter a lot to make any marriage successful.
Strongly recommended for all those who are in long-distance relationship as Meenakshi Sundareshwar gives a lot of hope and pave the way for many memorable moments.