The relationship between father and son assumes special place in a family and this has become the central theme for many films. MGR Magan streaming now on Disney+Hotstar digital platform is another attempt in this direction to unravel the new angle of the father-son relationship sprinkled with some humorous situations.
Story
Anbalipu Ravi (M. Sasi Kumar) is the son of famous physician M.G. Ramaswamy alias MGR (Sathyaraj) who don't see eye to eye due to a conflict for 15 years.
MGR provides free service to the locals and cures many ailments who fight a court case to stop the destroying of a nearby mountain which is having rich herbs and medicinal plants that can be a boon for many diseases.
There enters Anu Priya (Mirnalini Ravi) into the house of MGR to get her father treated and gets attracted to Ravi who vows not to enter the house along with his uncle Agnishwaran (Samuthirakani) due to a rift between them over a petty issue.
How MGR and his son Ravi unite after a series of incidents is what MGR Magan is all about.
Performances
Sathyaraj aces through the role of MGR with great ease and impeccable screen presence. Sasi Kumar too has carried the character of an estranged son with perfection.
It's Samuthirakani who wins the hearts eventually with his terrific comedy timing which created many lighter moments in the film that saved it from falling into the routine melodrama groove.
Saranya as the wife of MGR and mother of Ravi exhibited her acting prowess once again particularly her performance in the scene where she tries to separate her fighting husband and son was remarkable.
Mirnalini Ravi looked pretty and portrayed the character of Anu Priya quite convincingly but the chemistry between her and Sasikumar lacks the spark so it ends up as a big disappointment.
Pala. Karuppiah, Singampuli, and Motta Rajendran have done total justice to their respective characters.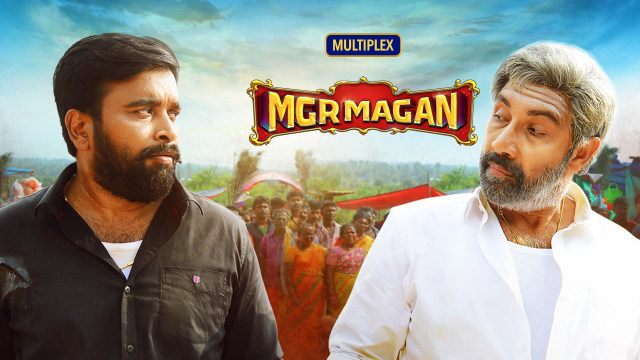 Behind the scenes
The story of the father-son feud was quite old but the writer-director Ponram has handled MGR Magan deftly by making it a wholesome entertainer with a fair dose of comedy.
Vinoth Rathinaswamy's cinematography and music by Anthony Daasan are the other positive aspects of the film that has made it thoroughly enjoyable.
The editing by Vivek Harshan should have been sharper as some blocks got stretched a bit. The engagement and wedding track of Agnishwaran was one such block that was stretched and should have been trimmed.
Final Verdict
Overall MGR Magan was an absorbing family drama that revelled in a father-son relationship with fair dose of humour that gave the film a distinct touch.
Drama, comedy, action, sentiment, romance, and a message – all the ingredients are there in MGR Magan which can be given a try over a can of popcorn to enjoy and get entertained without any prior expectations.