Thomas Tykwer's German experimental thriller Lola Rennt, which is called internationally Run Lola Run was remade as Looop Lapeta built around a cleverly conceived concept by Akash Bhatia is streaming on the popular digital platform Netflix.
Synopsis
The film takes place in Goa although it was not disclosed blatantly. The film begins in the presence of Savina Borkar, also known as Savi (Taapsee Pannu) shown as an athlete with an edgy style, taking the drugs on her birthday, while she contemplates the things she hopes for, and how her life has treated her in the past.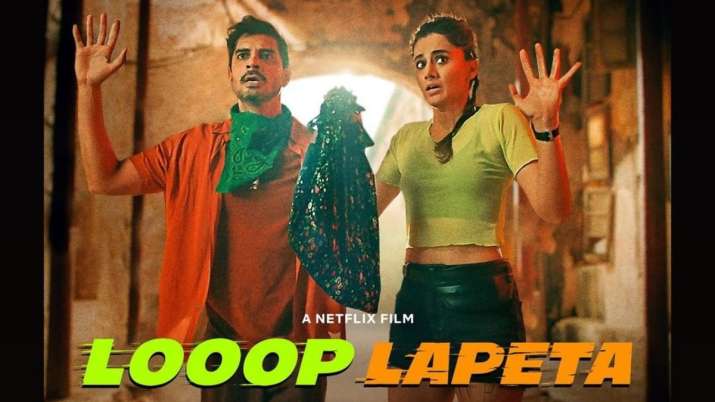 The story picks up pace as her lover Satya (Tahir Raj Bhasin) calls her to inform she that he's lost the bag that contained rupees fifty thousands belonging to the boss. his life could be in danger in the event that he doesn't return it.
With just a few minutes to pay back the money they consider ways to increase the amount to return it on time. As an option last resort. Satya is even suggesting robbery at the nearby jeweler's store. How they both pull it off despite several deadlocks is the remaining story of Looop Lapeta.
Performances
Tapsee picks up her characters very shrewdly She makes her way up by picking intriguing stories and characters. She plays the character of a girl who is constantly running in Looop Lapeta. She's one of the girls who is unhappy with her father and deeply in love with an unfocused male. There isn't enough time to test her in terms of the character arc and its establishment because the character and story keep moving at a significant pace so that there would be no time left to analyze as a whole.
Tahir Raj Bhasin enacts a different character who will be present all through the film. He's a great actor whenever required as demonstrated from his previous outing in Yeh Kaali Kaali Ankhein that went on to win critical acclaim.
There are some other characters such as Dibyendu Bhattacharya, Shreya Dhanwanthary, Rajendra Chawla, Sameer Kevin Roy, Manik Papneja, and Raghav Raj Kakker in minor characters that don't have the potential to be noticed, but they are essential to the plot. They have performed according to the demands of the characters and that too in a commendable way.
Behind the scenes
The title doesn't lie to you. It's the mythical nature of the loop-deloop plot that makes the plot fascinating and captivating. The script is cleverly interspersed with the mythic story that tells the story of Satyavan as well as Savitri to facilitate some quick rewinding within the story. In short it is the reason for the three episodes you watch with completely different results.
The plot combines rapid-paced action and hilarious comedy lines, with the aid of amusing minor characters who get their own moments of glory on screen.
The film overall was directed with genuine passion by Akash Bhatia and is brimming with confidence and stunning camera work by Yash Khanna. The frames have meticulously captured the elements in a variety of angles, making the film look impressive and exciting on the technical level.
An extra note of praise to the Editor Priyank Prem Kumar for effortlessly layering the film into an enjoyable, consistent unit.
Final Verdict
Looop Lapeta is a mixed bag of comedy and suspense gelled into a perfect film but with some loopholes. It's likeable if you don't have any expectations and can be given a try to enjoy some fast paced narrative that's quite high on entertainment without much boring moments except for some lag in first half that can be ignored.