Disney+Hotstar has made its entry into Mollywood with the digital premiere of Kanakam Kaamini Kalaham as a part of its foray into the South Indian market. Streaming on its platform, this film was produced by Nivin Pauly under Pauly Jr pictures who is known for many hit films including Bangalore Days, Premam, and won many State and Filmfare awards as an actor.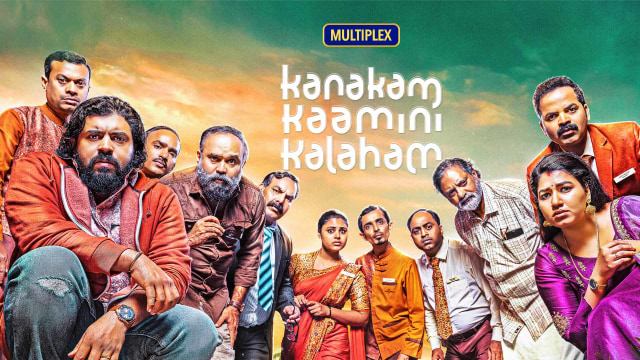 Synopsis
An aspiring actor Pavithran (Nivin Pauly) and an ex-TV serial actress Haripriya (Grace Antony) venture for a joy trip and lands up in Hotel Hilltop. The loss of earrings belonging to Haripriya in the hotel sparks off a series of interesting incidents in the hotel with many characters making the entry triggering all kinds of chaos.
The relationship between Haripirya and Pavithran too comes under the scanner and how they both overcome this fiasco and what is the real story behind the theft of earrings is the story of Kanakam Kaamini Kalaham.
Performances
Grace Antony and Nivin Pauly as wife and husband look perfect and the major chunk of cake goes to Grace who exhibited her various shades in the character gracefully.
Nivin Pauly goes with the flow and with the emergence of other characters he took a back seat as his character got confined to limited scenes though he was present all through the film.
Then it's Jaffer Idukki in the prolific alcoholic character who created the ruckus that lead to many heartful laughs deserves full credit. Though he overacted a bit (the script was to be blamed), his body language, gestures, dialogues, and expressions were enjoyable all through.
Vinay Forrt as Hotel Manager Jobi (who gets mistaken as dhobi quite often) was another character who do multitasking by handling the volatile situation at the hotel on one hand and answering the calls of his girlfriend who keeps on mustering him on the other hand has done a fabulous job.
Sudheesh as Sivakumar, Joy Mathew as Balachandran, Vincy Aloshious as Shalini (she had amazing screen presence), Rajesh Madhavan as Manaf Khan (he pulls out a splendid performance in some scenes mainly with his eccentric expressions), Sudheer Paravoor as Vijesh Nair, and Shivdas Kannur as Chandrachoodan have added great value to the narrative with an emphasis on timing that was more important in this genre of films.
Behind the scenes
Writer-Director Ratheesh Balakrishnan Poduval who earlier made Android Kunjappan Version 5.25 for which he has won Kerala State best debut director award has now made an out and out comedy Kanakam Kamini Kalaham which can be rated as a healthy family entertainer except for its bland screenplay that was overshadowed by some good performances and punchy dialogues.
The cinematography by Vinod Illampally has got very little to show as the major portion of the film was shot in interiors and the music by Yakzan Gary Periera and Neha Nair was passable.
The editing by Manoj Kannoth could have been vee bit better as there are some scenes that should have been deleted to give the narrative more momentum.
Final Verdict
A hilarious rollercoaster ride with many laughing moments which was ideal for the whole family was the main takeaway of the film without any vulgarity or double entendre dialogues.
Leaving some over dragged blocks and a weak screenplay, Kanakam Kaamini Kalaham was a healthy family entertainer that can be enjoyed  by all age groups.