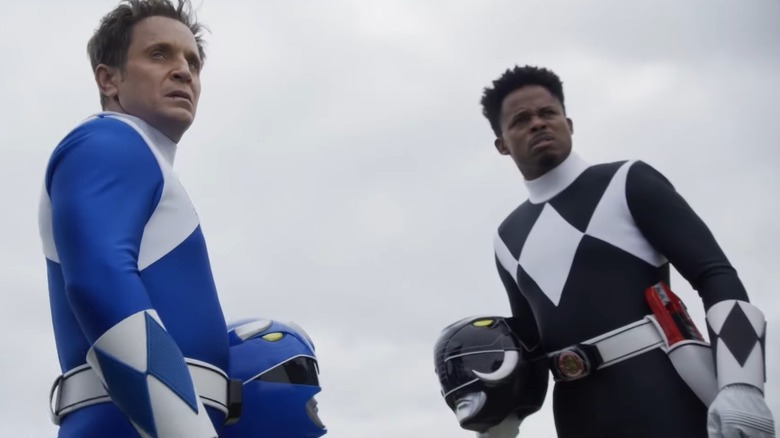 Guess what, "Power Rangers" fans? It's morphin' time! The Netflix special "Mighty Morphin Power Rangers: Once & Always" that will celebrate the 30th anniversary of the "Mighty Morphin Power Rangers" TV show finally has a trailer, and it has us feeling all the feels.
It's been three decades since the highly influential show, based on the Japanese franchise "Super Sentai," premiered in the U.S. and changed everything, creating a mania that swept the nation in a way that wouldn't be seen again until "Pokémon" a few years later. Nowadays it is easy to take massively popular superhero franchises for granted, but for millions of '90s kids, "Power Rangers" was the first time they saw a group of diverse teenagers fighting evil. Since 1993, the franchise has grown to be a juggernaut of dozens of different iterations, new teams, and new zords. But it always comes back to the original "Mighty Morphin Power Rangers," the only version of the team that lasted multiple seasons.
"Mighty Morphin Power Rangers: Once & Always" reunites actors David Yost and Waler Emanuel Jones, who will reprise their roles as the Blue Ranger, Billy Cranston (rumored to be named after actor Bryan Cranston, who voiced some villains in the first season of the show), and the Black Ranger, Zack Taylor, respectively. The trailer also teases the return of other Rangers, including Steve Cardenas' Rocky DeSantos, Johnny Yong Bosch's Adam Park,  and Catherine Sutherland's Kat Hilland.
But it is not just Rangers who are returning, because Richard Horvitz also returns to voice Alpha 5, while the trailer reveals the show's very first villain is also making a comeback (and with a brand new body to boot!) Barbara Goodson as Rita Repulsa herself.
Go, Go, Power Rangers!
The trailer tells us just enough about the plot to give an idea of what "Mighty Morphin Power Rangers: Once & Always" will be about, as we see a returned Rita Repulsa in a robotic body attack the Rangers, and launch a fatal attack that almost hits Billy, before the Yellow Ranger, Trini Kwan seemingly sacrifices herself for him.
This is a touching callback to how Trini saved Billy in one of the very first episodes of the original show, and a way to both honor and explain the absence of original actor Thuy Trang, who tragically died in a car crash in 2001, at age 27.
As for the special itself, well, it feels like "Power Rangers." It looks crisp and bright, but still retaining that TV-like "Super Sentai" feel. If nothing else, this is set to be a very emotional reunion special.
"Mighty Morphin Power Rangers: Once & Always" premieres on Netflix April 19, 2023.
Read this next: The Best TV Episodes Of 2022, Ranked
The post Mighty Morphin Power Rangers: Once & Always Trailer: The OGs Return For Their 30th Anniversary appeared first on /Film.