Gehraiyaan, streaming on Amazon Prime Video is about relationships and complexities surrounding them. A single film may take too long to unravel the mysteries behind those complexities. But the director, Shakun Batra deserves praise for  for his attempt to dig deeper and to make it happen. 
Synopsis
Gehraiyaan is a story that revolves around four people – Alisha (Deepika Padukone), Zain (Siddhant Chaturvedi), Tia (Ananya Panday) and Karan (Dhairya Karwa).
Al also known as Alisha is a yoga instructor who is struggling – she lives her life carrying the burdens of her past, a start-up idea to launch an app and struggles to achieve her goals. Karan the writer who is her partner of six years, is working to push hard to get his novel published. The high expectations within their relationship can cause havoc, which can be seen as the film progresses.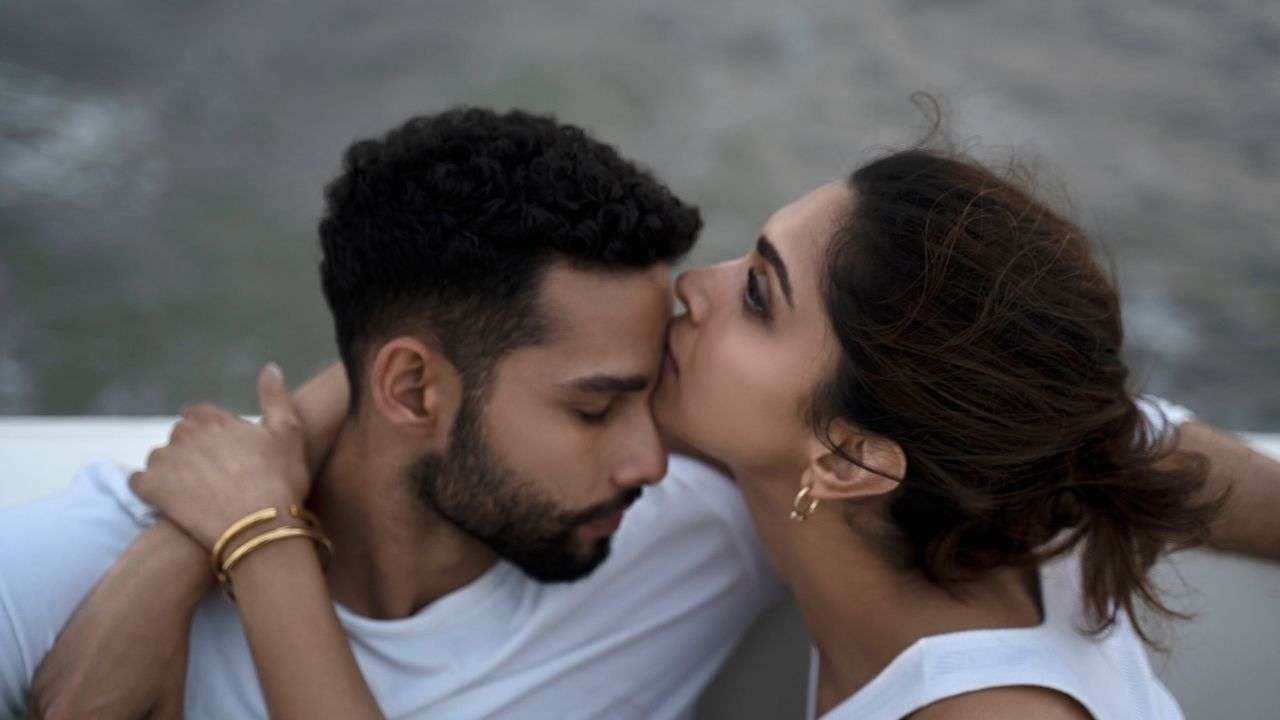 Here enters Tia, Al's cousin and a wealthy US-returned lucky girl. Tia has had the most of everything, as it appears. Tia is a hostess to Al and Karan whom she considers to be childhood buddies, to brief trips and introduces them to her husband Zain who is stunning, flamboyant and flirtatious, as well. Zain has reached a stage and is ready to move forward – is driven and wants to be huge.
Sparks fly, eyes meet and, eventually, bodies come together too. After a bit of innocent flirting in the midst of texts and secret messages kept from each other all boil all the way to infidelity.
Performances
Deepika in the role of Al is remarkable, powerful and stands out in this intricate web of love, lies, as well as dark secret. She is expressive and we can relate to her. Ananya is also a great actor for the character of Tia. She appears authentic and is able to play her role quite well.
We get to see Gully Boy's Siddhant Chaurvedi in a fresh way as Zain but there's more to his. Although he tried to be a good actor, the chemistry between him and Alisha was not that intense. 
This is Naseeruddin Shah. He gets the shortest screen time, yet through his powerful acting, he takes the film to the next level. Scenes with Alisha are thrilling and profound and that's the place where you get a sense of Gehraiyaan more than any other scene.
Additionally, Rajat Kapur as Zain's business partner matches the bill and, after a long period we are able to observe him at his best.
Dhairya Karwa is akin to the person next door, someone whom you might have known as an acquaintance. He's there and brings some fun moments to the script, however, his character is not established as it should be.
Behind the scenes
The director Shakun Batra has attempted to explore the issue and gradually move to an overall picture of the strain in relations and how the mind operates. The story tries to go deeper, using turbulent waves that represent tumultuous internal thoughts. We are able to gain a clearer picture of how depressed a person could be, even if it is not visible from the surface.
He clearly has a strong influence of Hollywood as well as South Korean style of filming and presentation is evident however, it is an opportunity to breathe. The pace occasionally gets lost and the sloppy climax is a fascinating piece of writing.
The background music, cinematography and cinematography play an integral role in helping Gehraiyaan stand above the rest. Their story as four people is filled with variations – much as the high tides, but we're not giving away any spoilers.
All praise to the stylists and costumes for making everyone look elegant and stylish adding that much needed richness to the film.
Final Verdict
Gehraiyaan explores human relations from a 3rd-person perspective . It's a peek into their lives that unravels mysteries, lies and the lingering feelings of affection. It poses many questions, tries to find answers and keeps the viewer hooked with intense presentation which is the brownie point of this film. It needs a try if you want to watch some different stuff that was relatable to heart and relationship blues.