We're back!

Thankfully, even with the various strikes, the next few months will be full of TV goodness.

There is a lot out there, and we've got you covered. Find out below what we recommend you watch this week!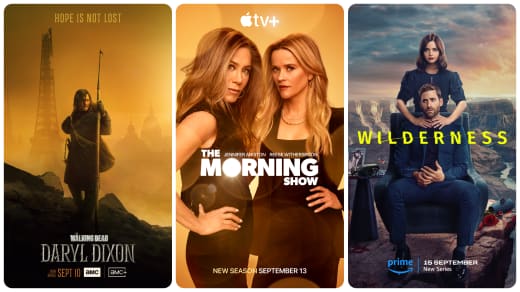 Saturday, September 9

Convicting a Murderer (Daily Wire+)

Did you fall for the Steven Avery saga with Netflix's Making a Murderer? Did you demand justice and, in doing so, throw Steven's unwitting victims under the bus to do it?

Well, Candace Owens has helped put together another view of that docuseries, including how court transcripts and voice recordings were manipulated to paint a picture fitting their narrative rather than allowing the evidence to speak for itself.

Prepare to be taken on a journey through witness and Avery fan interviews that will upend the narrative. Was he wrongly imprisoned for a crime he didn't commit? Absolutely. But that's not the whole story.

Pernille (Viaplay)

Pernille, aka Pørni (you can see why they changed the tile for the US release), cares for everyone but herself. She's got two children, an ex and his ailing wife, her father, and all of the children she helps through child services.

But when will she get a little time for herself?

The first three seasons are all available now on Viaplay, and you need to know that I fell in love with this character. Henriette Steenstrup created and stars, bringing so much life to Pørni that you'll want to be her best friend.

8/7c Fourth Down and Love (Hallmark Channel)

The Hallmark Channel is kicking off its Fall into Love film series by combining two fall favorites, sports and college sweethearts.

Pascal Hutton and Ryan Paevey portray former college sweethearts Erin and Mike, who get another chance at love when they reunite at her daughter's flag football coaching session.

Mike is taking a break from pro football and helping to coach the girls' flag football team, where he runs into Erin. They both realize something is missing, but will they risk old hurts for a chance at love?

8/7cTaken in Montana (Lifetime)

Lifetime has another thriller inspired by true events with this family vacation from hell!

Teenage Regan must put her detective hat on and follow all the clues when her parents suddenly go missing during their family vacation, and she quickly discovers that they've been taken.

Will she be able to save them in time? And can one teen girl take on a bunch of hardened, country boy kidnappers? Tune in to find out!

When her parents go missing on their family vacation, Regan must put the clues together to find them. #TakenInMontana premieres tomorrow at 8/7c only on Lifetime pic.twitter.com/GGUoALzNbR


— Lifetime (@lifetimetv) September 8, 2023


Sunday, September 10

9/8c When Calls the Heart (Hallmark)

Lucas Bouchard arranges for a wonderful surprise for Hope Valley residents, but he's going to need a hand ensuring its success.

Rosaleen Sullivan returns, and with her past marred with tragedy, interconnected with Henry's role in the mining disaster, will the two finally find a way to put the past behind them?

And Madeline St. John finally makes a decision about her place in Hope Valley. Do you have a guess as to what it might be?

9/8c The Walking Dead: Daryl Dixon (AMC)

The next chapter gets off the ground in thrilling fashion with Daryl washing ashore in France. How did he get there?

That's the interesting question that you'll be asking when the series debuts. Will you get an answer?

You'll have to watch to find out, but rest assured, The Walking Dead: Daryl Dixon is a refreshing change of pace.

10/9c Dreaming Whilst Black (Showtime/PP+wS)

Whether you're Black or not, you're going to feel for Kwabena, whose dream is to be a filmmaker. He's both his best ally and his worst enemy.

Kwabena often imagines what he would say if the world wouldn't judge him harshly, and sometimes, you'll wish he had.

It's both hilarious and poignant, and clocking in with only six episodes, you don't have to commit a lot of time for maximum enjoyment.


Tuesday, September 12

9/8c The Swarm (The CW)

The new CW is picking up a lot of content produced elsewhere, and if you're a fan of Netflix, Hulu, or even Viaplay as I noted above, then you know that's not a bad thing.

The Swarm is (as too many are these days) playing with climate change and environmental issues changing the world we've come to know.

The first episode is a promise of what's to come, and the trailer promises even more. Will you be giving it a try?


Wednesday, September 13

The Other Black Girl (Hulu)

Nella is an editorial assistant who is tired of being the only Black girl at her company.

She's excited when Hazel is hired, but things take a turn when Hazel's star begins to rise, leading to Nella spiraling out of control and learning the truth about her company's history.

The series features plenty of thriller elements, which pair very well with the comedic tone. Will you be watching?

Invasion (Apple TV+)

After an episode away, Jamila and her classmates return to use the Channel Tunnel to head to Paris, where Casper was last thought to be.

But who knows what's lurking in the tunnel?

Also, after humanity's recent successful counterattack, what will the other characters be up to?

The Morning Show (Apple TV+)

The first two seasons of The Morning Show had plenty of backstabbing and secrets, even a man-against-woman kind of feel to them.

But the trailer for The Morning Show Season 3 promises that we ain't seen nothin' yet.

The claws, daggers, and swords are out, and everyone is pointing and pointed at as the whole thing – lives, UBA, all of it – could be taken down. We are so here for it!

Wrestlers (Netflix)

Where are our Wrestling Fanatics?

If you're a fan of Heels or a long-time fan of wrestling, you'll love this docu-series that takes a peek into the wrestling world of the Ohio Valley Wrestling world following a former wrestling finishing school in Kentucky that Al Snow is determined to turn around.

It explores a bunch of misfits and eccentrics coming together to keep the sport alive.

Masterchef: Tastes of America (FOX)

We're nearing the finals as the remaining home chefs compete for the grand prize and the coveted win.

The regions have dwindled down, with only three regions remaining. Will the Midwest prevail? Or will the West? How about the South?

Tune in for a double feature of Masterchef!


Thursday, September 14

Star Trek: Lower Decks (Paramount+)

Newly promoted Lieutenant (Junior Grade) Boiler takes command of his first away mission, and what could possibly go wrong? Especially with T'Lyn at his side?

Meanwhile, back on the ship, Mariner, Rutherford, and Tendi wonder whether their new duties are truly the responsibilities of Lieutenants (Junior Grade) or if they're being hazed.

Can Freeman tap into her inner programmer? Will Vexilon join the legions of Agimus? Why do all the good AIs go bad?

Buddy Games (CBS)

If you're familiar with the dude-bro film led by Josh Duhamel, then you'll be pleased to learn he's bringing it to reality series form with a show inspired by the infamous and outlandish Buddy Games in the movie.

Buddy Games is a competitive series that relies on friendship to push teams forward in hopes of winning a grand prize.

Teams of best friends must rely on each other's strengths and make up for their weaknesses as they perform a bunch of physical and mental challenges in hopes of winning a major prize and proving that friendship prevails over all else.


Friday, September 15

The Wheel of Time (Prime Video)

Rand and Moiraine are on the run, and hopefully, they can find someplace safe before any darkfriends catch up to them.

Perrin learns more about himself as he tries to figure out a way to reunite him with his friends. Mat and Min continue their journey toward Cairhien.

Tensions at The White Tower rise as the attacks become more violent, and Liandrin continues to enact her secret plans.

Elevator Game (Shudder)

No time like the present to get ready for October, aka Scary Season!

This group of friends might be ready to play, but they may not be prepared for what happens when they don't follow the rules.

This looks like a classic horror flick in the vein of The Ring. I know what I'm doing on Friday night!

Harlan Coben's Shelter (Prime Video)

We've spent all season getting tossed into multiple mysteries surrounding Mikey Bolitar and his friends and family.

And finally, things come to a head as Mickey's search for Ashley may have been fruitful, assuming he escaped a harrowing attempt on his life, and he uncovers more secrets about Abeola and whether or not his father is actually alive.

And that Hannah and Shira love story comes to a head too!

Love at First Sight (Netflix)

Love is in the air, literally.

Romance fans will adore this film based on the Jennifer E. Smith novel about a pair who fall in love with each other on the plane from New York to London.

Netflix does well with its book series to screen adaptations, so this one should give us all the feels!
Carissa Pavlica is the managing editor and a staff writer and critic for TV Fanatic. She's a member of the Critic's Choice Association, enjoys mentoring writers, conversing with cats, and passionately discussing the nuances of television and film with anyone who will listen. Follow her on Twitter and email her here at TV Fanatic.