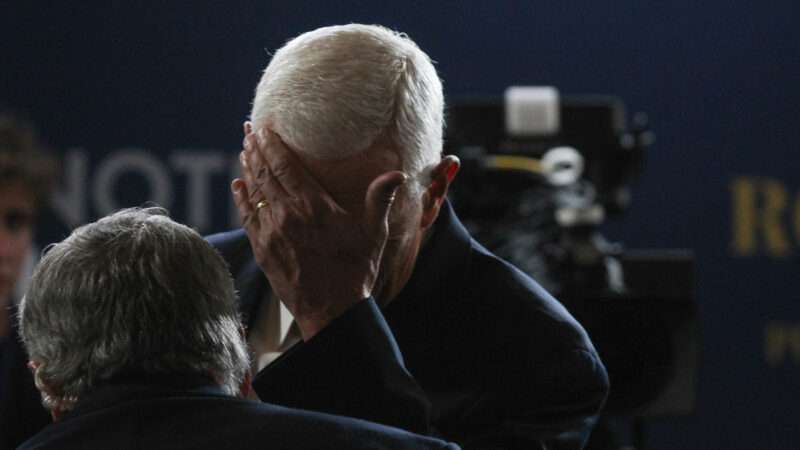 No breakout moments, just awkward sparring. Last night's Republican presidential debate—minus front-runner Donald Trump—was full of canned lines and uncomfortable clashes. The whole stage seemed to be either ignoring or in denial of the fact that they'll at some point need to fight the man himself, or successfully appeal to his legions of faithful supporters, if they want to nab the top spot.
On some topics, their views were practically indistinguishable: in particular, school choice (which nearly all paid lip service to, writes Reason's Emma Camp) and immigration (quite a few agreed that we should militarize the southern border and defund so-called sanctuary cities).
But there were some really unique and foolish proposals fleshed out, too.
"I favor ending birthright citizenship for the kids of illegal immigrants in this country," proposed entrepreneur Vivek Ramaswamy (more from Reason's Fiona Harrigan). Florida Gov. Ron DeSantis declared we needed to go after the cultural power China has in this country (a thinly veiled way to talk about TikTok without actually saying so?). Former Vice President Mike Pence said we ought to pursue an expedited death penalty for mass shooters. (Would that actually have a deterrent effect? Unlikely.) Several talked about the fentanyl crisis, directly linking it to the flow of migrants across the southern border, but offered no realistic policy solutions.
Glimmers of hope amid the snoozefest: When asked what he would do about the "22 percent of American workers [who] fear their jobs will be lost to a robot…and to artificial intelligence," former New Jersey Gov. Chris Christie offered a surprisingly cogent answer: "Artificial intelligence offers us an extraordinary opportunity to expand well beyond the productivity that we have now."
Former South Carolina Gov. Nikki Haley's comments on how public schools fail children were good, as well as her focus on reining in runaway spending and government ineptitude: "Congress has only delivered a budget on time four times in 40 years." DeSantis argued that Trump "owes it to you to defend his record where they added $7.8 trillion to the debt" which "set the stage for the inflation that we have now." North Dakota Gov. Doug Burgum, who struggled to get speaking time, was a bright spot, abstaining from the front lines of the culture wars and consistently gesturing at support for free market policies.
Still, ignoring the Trump question made the whole debate seem silly; it's not clear that any of the assembled candidates have what it takes to go up against him or to win over his many die-hard fans. Trump's decision to abstain feels like it's breaking the traditional debate mold, rendering the political pageantry even more pointless than it had already become in recent years.
"Sleeping with a member of the teachers union" is how Christie characterized President Joe Biden's relationship with his wife. "They have an advocate inside the White House every day for the worst of their teachers," he added. Though not wrong, exactly, Christie was clearly going for a scathing soundbite, a strong breakout moment, and I'm not sure it landed. ("I've been sleeping with a teacher for 38 years, full disclosure," added Pence, who kept going for laughs to minimal effect.)
"Donald, I know you're watching. You can't help yourself," Christie said at one point. "You're not here tonight because you're afraid of being on this stage and defending your record. You're ducking these things," Christie said, escalating with some excitement. "If you keep doing that, no one up here is going to call you Donald Trump anymore. They're gonna call you Donald Duck." (It did not land.)
"Every time I hear you, I feel a little bit dumber," Haley told Ramaswamy at one point, with pissed-off mom energy, after he mentioned joining TikTok for voter outreach.
The same could probably be said of California Gov. Gavin Newsom, who took it upon himself to try to brand California as "the freedom state" last night. Yes, the state that has the highest domestic outmigration right now because people simply don't want to put up with it anymore—that's the one he considers to be "the freedom state." The state that allows activists to thwart development projects via environmental review, which punishes freelancers and the companies they might work for, which is trying to place an extra tax on "extreme wealth," which severely restricts people's right to bear arms, which forced millions of schoolchildren to stay home or engage in masked, distanced learning because of COVID. (Though he keeps swearing he won't run, and that he won't replace Kamala Harris as veep, it sure seems like he's looking into it. Why is he debating DeSantis one on one, for example?)
Welcome to the freedom state, @GOP.

We believe in these crazy things here called:
– Free speech
– Gun safety
– Healthcare
– Social Security
– Climate change

oh… and… democracy.

See you tonight.

— Gavin Newsom (@GavinNewsom) September 27, 2023
In fewer words:
Can't believe I'm up past my bedtime for this bullshit

— Saagar Enjeti (@esaagar) September 28, 2023
---
Scenes from New York: 
Bernie Wagenblast used to be the voice you'd hear making announcements about approaching subway trains, on the PATH train that connects New Jersey to New York City, and on the AirTrains that connect people to terminals at JFK and Newark. The voice artist both gender-transitioned and was replaced—at least at JFK airport—by an artificial intelligence (AI) trained on Wagenblast's own voice.
You simply cannot make this up. I have never heard of a more 2023 sequence of events.
---
QUICK HITS
Microsoft is building nuclear-powered AI:

"

No suggestion of carbon credits in exchange for good will in the press. No implicit begging for a ribbon after buying solar panels from China, which are built in part by slaves, and constructed from material mined by children,"

writes

Pirate Wires

head honcho Mike Solana (whose podcast I'll appear on later today). "Microsoft is quietly hiring a nuclear scientist to free itself from the rotting power grid, generate more power with the casual suggestion it will be using much more energy, and take an active hand in actually building a better world."

Tony Timpa's wrongful death trial ended with two of the three cops getting qualified immunity, reports Reason's Billy Binion.
No lies detected:
The tangible resistance to CBDC is one of the most encouraging political realities to emerge in recent memory. https://t.co/XnsphNcd9v

— Zach Weissmueller (@TheAbridgedZach) September 21, 2023
Is that an arrow pointing to SF as a more affordable city?

— Lee Fang (@lhfang) September 27, 2023
The risk of contracting long COVID may have been exaggerated due to flawed research, leading to unnecessarily high levels of anxiety about suffering from it, a new study has suggested https://t.co/UNSVrfC9sw

— Sky News (@SkyNews) September 26, 2023
In July, a 23-year-old American soldier who had been held in a South Korean detention center on assault charges crossed the demilitarized zone, or DMZ, which divides North and South Korea. He voluntarily crossed, in lieu of boarding a plane back to the U.S. where he expected to face greater disciplinary action. North Korean propagandist outlets claimed he "harbored ill feeling against inhuman maltreatment and racial discrimination within the U.S. Army." Now, he has finally been expelled from North Korea and returned to the United States.
It's disturbing that panels about biological sex differences get shouted down by activists who claim they'll be made physically unsafe:
Just in case you missed the reason for the cancellation: "This decision was based on extensive consultation and was reached in the spirit of respect for our values, the safety and dignity of our members, and the scientific integrity of the program(me). The reason the session… https://t.co/BW9f5up6jP

— Carole Hooven (@hoovlet) September 27, 2023
The post Sleeping With a Member of the Teachers Union appeared first on Reason.com.