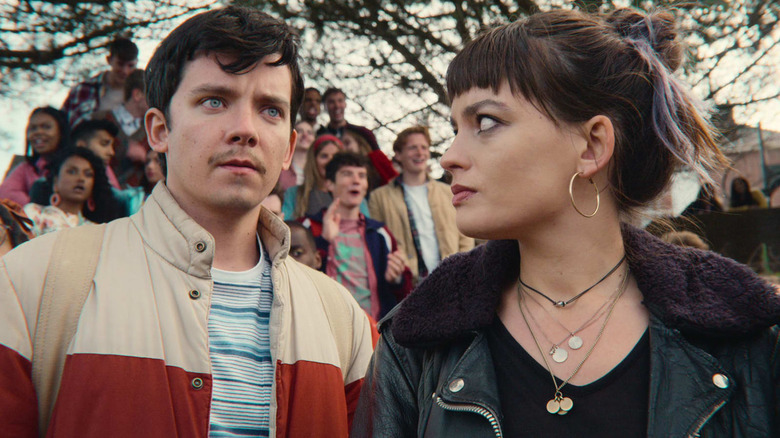 It's been almost a year since we got our last "Sex Education" fix and fans are hungry for more. The British dramedy follows the lives and loves of students at Moordale Secondary School and as the title suggests, it never shies away from all the drama that goes hand in hand with sexual intimacy. Everything is life and death when you're a teenager and "Sex Education" embraces all the awkwardness, anxiety, and humor so inextricably linked to those years — and it's all set to an amazing soundtrack. The show may be hilarious, but it also has a ton of heart. Honestly, it's absolutely delightful and if you're reading this, chances are, like me, you can't wait to see more.
The series has grown quite a bit since the early days when it mainly revolved around Otis' (Asa Butterfield) burgeoning business venture as a secret sex therapist for his fellow students. "Sex Education" has widened its scope with each subsequent outing, showcasing an excellent ensemble cast. With so many beloved characters to follow and plot threads left dangling, let's dig into everything we know about the show's upcoming 4th season.
When And Where To Watch Sex Education Season 4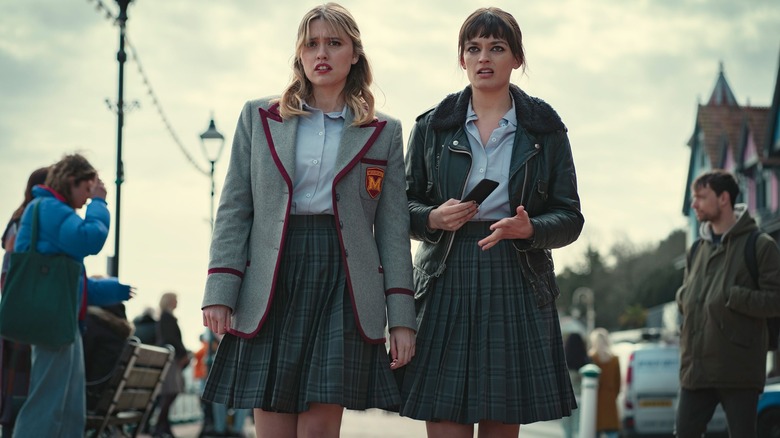 Just like the first three seasons of "Sex Education," the show's upcoming 4th outing will air on Netflix. When it will actually hit the steaming service is a much more difficult question to answer. As of now, there is no release date available, so let's put on our detective caps. Season 1 aired in January of 2019, with season 2 following in January of 2020. Thanks to a global pandemic, season 3 took a bit longer, hitting Netflix in September of 2021. 
Butterfield confirmed filming for season 4 is currently underway, which means we're still a long ways off from the show being available to stream. With this timeframe in mind, it seems likely we won't see what becomes of our favorite Moordale students before late 2022/early 2023. Perhaps the show will even return to its original January slot. Considering those cliffhangers, I'm sure we're all hoping season 4 shows up as soon as possible.
What We Think Sex Education Season 4 Will Be About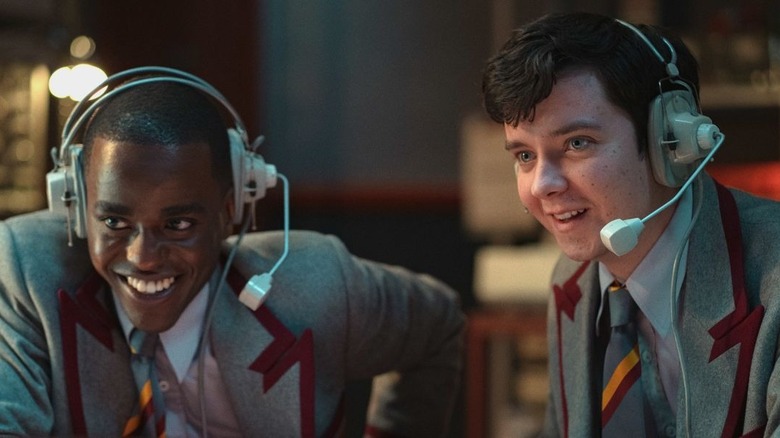 Netflix's official synopsis (via The Hollywood Reporter) for "Sex Education" season 4 reads as follows:
"Following the closure of Moordale Secondary, Otis and Eric now face a new frontier — their first day at Cavendish Sixth Form College. Otis is nervous about setting up his new clinic, while Eric is praying they won't be losers again. But Cavendish is a culture shock for all the Moordale students — they thought they were progressive but this new college is another level. There's daily yoga in the communal garden, a strong sustainability vibe and a group of kids who are popular for being … kind?! Viv is totally thrown by the college's student-led, non-competitive approach, while Jackson is still struggling to get over Cal. Aimee tries something new by taking an Art A Level and Adam grapples with whether mainstream education is for him. Over in the U.S., Maeve is living her dream at prestigious Wallace University, being taught by cult author Thomas Molloy. Otis is pining after her, while adjusting to not being an only child at home, or the only therapist on campus."
Perhaps the biggest question mark is what will happen between fan favorite will-they-or-won't-they couple, Otis and Maeve (Emma Mackey). They were finally going to give it a shot last season, but her rather abrupt departure to study in the United States appeared to signal the end for them. Another gut-wrenching moment was the breakup between Adam (Connor Swindells) and Eric (Ncuti Gatwa), who it seems will be on their own separate journeys this season. Also, Jean (Gillian Anderson) looked quite shocked by the results of her paternity test for newly-born daughter Joy, so we'll have to see how that pans out as well.​
What We Know About The Sex Education Season 4 Cast And Crew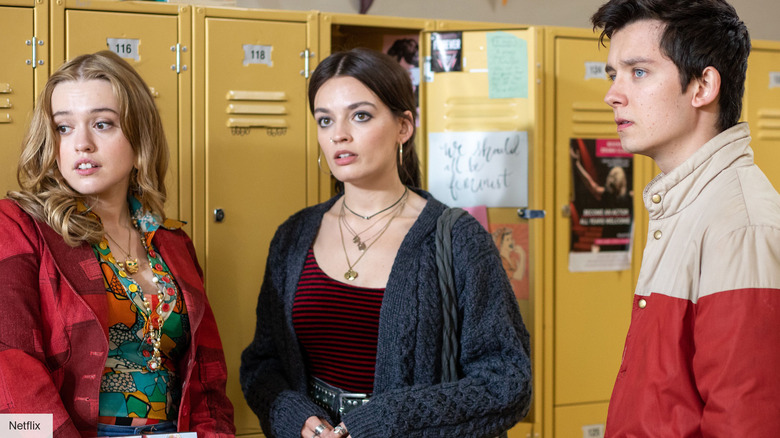 There will be something of a shakeup in the cast of "Sex Education" season 4, with multiple series regulars not returning. Both Ola (Patricia Allison) and Lily (Tanya Reynolds) will be absent from the new season. It's also worth noting that Ola is Jakob's daughter, so if she's not coming back for season 4, what does that mean for Jakob and Jean? According to Newsweek, Mikael Persbrandt will be reprising the role of Jean's beau, but THR didn't mention him on their recent list of returning characters. He could show up briefly to wrap up his storyline, but if his daughter is out of the picture, and he's not Joy's father, how long would Jakob really be sticking around? We also won't be seeing any more of Olivia (Simone Ashley) or Emily (Rakhee Thakrar).
Losing these characters is a bummer, but it will make way for some exciting new faces. Most notable is the recent addition of Dan Levy of "Schitt's Creek" fame (via THR). Levi will play the aforementioned cult author Thomas, who becomes Maeve's teacher in the U.S. Thaddea Graham, Marie Reuther, Imani Yahshua, Felix Mufti, Alexandra James, and Anthony Lexa will also be new series regulars, though there has not yet been news about their roles.
As for returning cast members, thankfully, despite his current gig as the newest Doctor, Ncuti Gatwa will return as Eric. Butterfield, Anderson, and Mackey will all be back as Otis, Jean, and Maeve, respectively. Also returning are Aimee-Lou Wood (Aimee), Connor Swindells (Adam), Kedar Williams-Stirling (Jackson), Mimi Keene (Ruby), Dua Saleh (Cal), George Robinson (Isaac), Chinenye Ezeudu (Vivienne), Alistair Petrie (Michael) and Samantha Spiro (Maureen). Creator Laurie Nunn will remain as showrunner.
Read this next: The 15 Best Netflix Original Series Of 2021 Ranked
The post Sex Education Season 4: Everything We Know So Far appeared first on /Film.