Savannah Chrisley has shared more details about her parents' life in prison, revealing that her dad, Todd Chrisley, is "like the president" of the Federal Prison Camp in Pensacola, Florida.
Speaking with Nick Viall on The Viall Files podcast on Thursday (September 14), Savannah was asked if her mom and dad have made any friends while in federal prison.
"Oh, hell yeah," she said. "Dad is like… he likes to joke because even at visitation, I meet so many different people. It's hilarious. I come through visitation, and [the other inmates] come through, and they're like, clapping his hands. He's, like, the president of this place."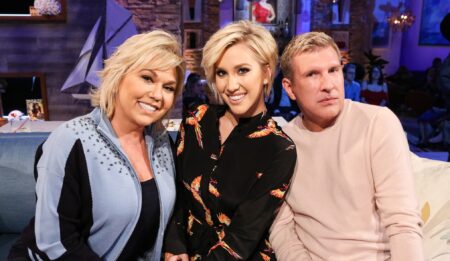 Todd and Julie Chrisley were convicted of bank fraud and tax evasion last year and sentenced to a combined 19 years in prison. They began their sentences in January, with Todd locked up at FPC Pensacola and Julie serving time at the Federal Medical Center in Lexington, Kentucky.
Savannah has previously spoken about the "inhumane conditions" her parents are facing in prison, claiming that the facilities turned off the air conditioning and padlocked the ice machines.
"I've 100%" heard crazy stories," she told Viall. "People don't really realize because people think where they're at is like 'Camp Cupcake,' you know? Just, 'let's go bunk around and f****** enjoy great food,' but [these prisons] are considered like a camp, like the lowest possible you can be in, so it's like adult babysitting."
The reality star added that most of the people serving time in these prisons are non-violent offenders, including lawyers, doctors, and Rick Singer, the mastermind behind the Varsity Blues admissions scams. But there are also "major drug lords" who have been moved down from higher security facilities.
Savannah said she gets to speak to both of her parents "at least twice a day," and they usually "put on a good face."
"But also in the midst of all of this, I've taken it as an opportunity to, like, make a difference, be outspoken because I have a platform that can speak for people that may not be able to speak for themselves," she continued. "So there's a little bit of venting, but for the most part it's like 'We're gonna put on a good face and we're gonna save the venting for in person."
Elsewhere on the podcast, Savannah revealed that she is no longer on speaking terms with her older sister, Lindsie Chrisley, noting that her relationship with Lindsie and her older brother, Kyle Chrisley, has always been tense.
"She and my oldest brother from my dad's first marriage, my mom always treated them as if they were hers. They didn't necessarily treat her the same," she stated.
Responding to Savannah's comments, Lindsie's attorney, Musa Ghanayem, shared a statement with People, saying, "Savannah is in a tough spot. Everything's changed, right? She's got Chloe [and Grayson]," Ghanayem explained, referencing Savannah's younger siblings. "She's dealing with a lot, and it doesn't surprise me that she's lashing out at Lindsie. I mean, some of the stuff that she's saying with regard to her parents, that's got to be out of anger because it's not in fact."
"She's Savannah's punching bag this week," he continued. "She's really young — young to be dealing with all this and there's no doubt about it. Because nothing she's saying is based in fact, right? It's got to be based out of anger and frustration and many different types of frustration."