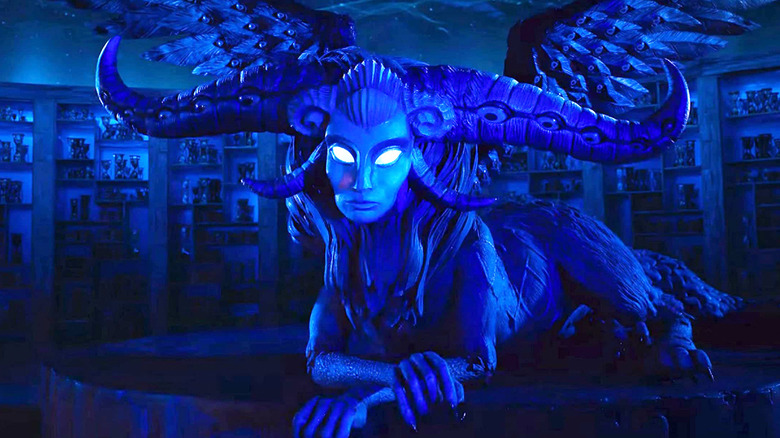 How might one sum up 2022 and all of its movie-related (stop-motion) monkey business? 
These past 12 months have been a pretty darn bumpy ride, complete with their share of hand-wringing over the future of cinema. On the flip side, they saw the movie industry make vital gains in representation, all while unique, challenging films misfired left and right financially, and even superhero tentpoles caught the box office blues. Meanwhile, other movies went far harder than expected, giving us writers a free excuse to use the term "maximalist" many times over. (No shade here — it's a fun word!) They also taught us valuable lessons about the power of radical empathy, the value of vulnerability, and the joys of punching fascists, colonialists, and other oppressors in the face.
But before we get into the top 10 of it all, some honorable mentions — call them my alternate top 10. Their ranks include:
"Pearl" and "Nope," an audacious duo that blends horror, comedy, and tragedy to examine the dark side of the film industry.
"Do Revenge" and "Kimi," two completely different yet equally winning pastiches that tip their hats to the work of Alfred Hitchcock.
"The Wonder," a gripping, gothic period drama about the things that haunt us and our innate desire to believe in comforting lies.
"Good Luck to You, Leo Grande," a perceptive, sex-positive two-hander anchored splendidly by Emma Thompson and Daryl McCormack.
"Mad God," Phil Tippett's glorious stop-motion nightmare about creative expression and the absurdist horror of existence.
"Belle" and "Marcel the Shell with Shoes On," a winsome pair that examines non-romantic love and connection in the modern world.
"Petite Maman," Céline Sciamma's blessfully low-key, moving magical realist tale of mothers and daughters.
So, without further ado, here are the 10 movies that resonated with me the most in 2022.
10. Fire Island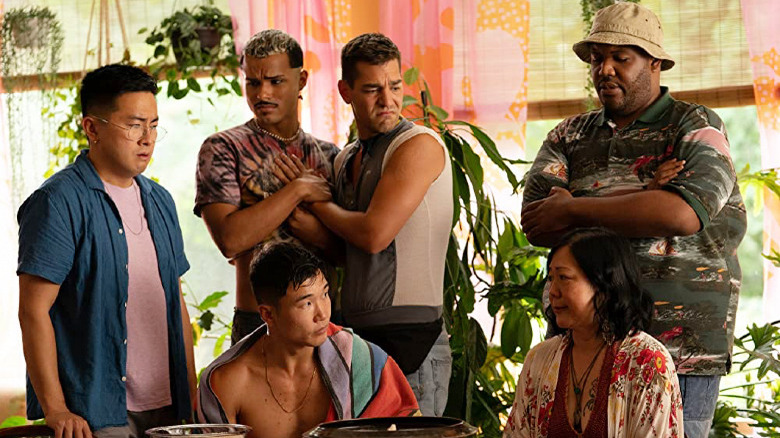 Jane Austen retellings are a dime a dozen, so much so it's hard to find new ones that put a truly fresh spin on the seminal author's work while also retaining their unique blend of themes about classism, biting commentary on gender roles, and swooning romance. They also tend to be very white and very straight, which only makes "Fire Island" — a thoroughly enchanting rom-com made by and starring a diverse group of queer artists — all the more noteworthy an addition to their numbers.
Loosely inspired by "Pride and Prejudice," director Andrew Ahn's movie follows Noah (Joel Kim Booster, who also penned the script) and his found family on their annual excursion to the queer vacation destination Fire Island for a week of no-strings-attached frivolity. What's great about their ensuing hijinks is the way they wholly honor the spirit of Austen while also firmly rooting them in the modern LGBTQ+ experience. From rich, uppity gay men who like to pretend they've already forgotten who Noah and his friends are each time they meet anew to Noah's love interest Will (Conrad Ricamora, stiff and dorky yet possessing a surprising depth, as any worthy Darcy type should), the film sweeps you up in its authentic world, revamping the all-too-familiar scenarios and plot points lifted directly from Austen's text.
As much as "Fire Island" owes to its intimate direction, witty script, and endearing cast (a special shout-out to queer icon Margaret Cho), one shouldn't overlook Felipe Vara de Rey's lush cinematography either. The film's visuals have a sultry, simmering glow that captures the mental haze one experiences during a whirlwind trip full of lust and romance. It's so vivid, you might have trouble separating the movie from your own memories of sizzling summer escapades.
9. Wendell & Wild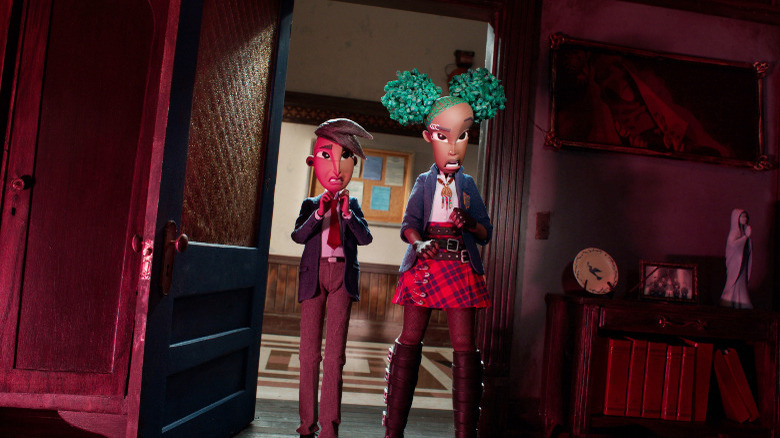 Combine the anarchic, macabre whimsy of director Henry Selick with co-writer Jordan Peele's socially conscious school of horror-comedy, and what do you get? "Wendell & Wild," a gleeful, ghoulish romp with genuine pathos, something meaningful to say about the world, and some of the most incredible-looking stop-motion animation put to celluloid.
Leading the film's stellar voice cast is Lyric Ross as Katherine or "Kat." A stylishly punk, unruly orphan, Kat lands herself in a Catholic school for teens, only to make an ill-advised deal with a pair of trouble-making demonic brothers (Peele and Keegan-Michael Key as the titular duo) who spend their days regrowing the hairs on the head of their gigantic father, Buffalo Belzer (Ving Rhames), in-between sleeping in his nose. "Wendell & Wild," as you no doubt gleaned from that plot summary, is delightfully weird and gross, so much so that it almost feels like a direct rebuke to more sanitized, easily-marketed animated family films. But just as inspired and daring as its ghastly fantasy elements are the movie's critique of the prison industrial complex and its calls to re-invest in our communities, as well as its examination of survivor's guilt.
Bursting at the seams with big narrative swings, imaginatively twisted imagery, and even some terrific (dead) body horror and humor, "Wendell & Wild" is the type of inventive, thoughtful, and legitimately inclusive animated film that kids — and everyone else — deserve. That it could only be brought to such vivid life through the magic of stop-motion is a testament to the old-school medium's sustaining power.
8. Turning Red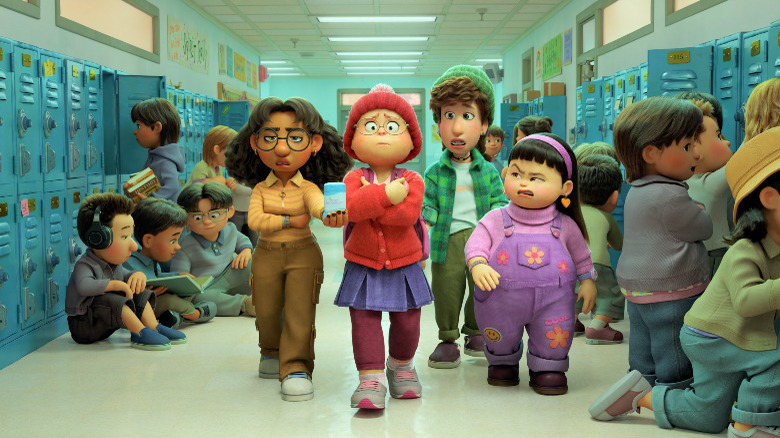 As skillful as Pixar's artists have gotten at creating realistically rendered computer-animated worlds, there's something to be said for those occasions where they're allowed to remind us of the true joy of animation: Its ability to capture what real life feels like, not how it looks. Domee Shi's "Turning Red," I'm pleased to say, is one such occasion. It's a film that goes beyond paying loving homage to the motifs and certain iconic visuals from the vast, varied world of anime (although it does that too) to replicating its vibrant spirit and kinetic energy.
Directed and co-written by Shi, "Turning Red" centers on Meilin aka "Mei" (Rosalie Chiang), a high-achieving, enthusiastic Chinese-Canadian teen girl who suddenly begins turning into a giant red panda when stressed thanks to a magical genetic trait shared by all the women in her family. Besides being a terrific coming-of-age metaphor that speaks directly to cisgender women's experiences during puberty, it's an often boldly honest film that was heavily informed by Shi's own youth in the 2000s and, as such, includes the type of specific, personal details that make its story all the more universal (be it Mei and her friends' fixation on boy bands or Mei's horny doodles). It's also a movie where the style perfectly enhances the substance and vice versa, mixing Pixar's hyper-realism with the impressionism of anime to create its own distinct vocabulary.
In short, "Turning Red" is personal, heartfelt, stylin', and very funny — all the things we love to see in our Pixar films.
7. Prey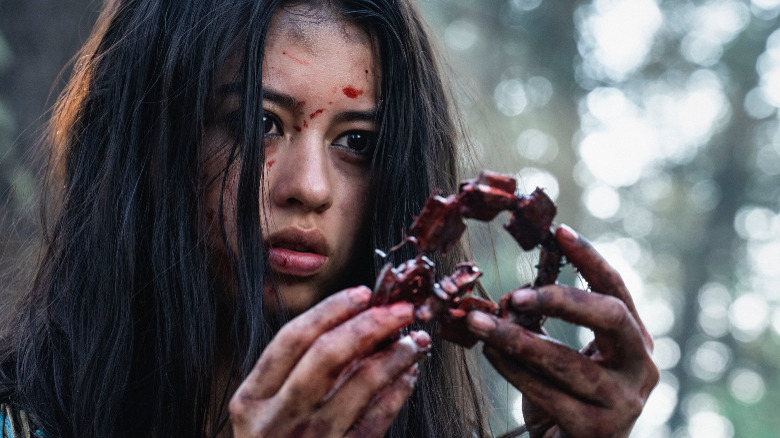 When you want to make a monster franchise movie that excels as both a continuation and a standalone film, call Dan Trachtenberg. When you want to rejuvenate a monster movie franchise that's gone off the rails by taking it back to its roots while at the same time adding something new to the mix, it turns out you should also call Dan Trachtenberg, as evidenced by the director's "Prey."
While "Prey" is a prequel of sorts to John McTiernan's 1987 sci-fi action/horror classic "Predator," one need not have seen that film or any other "Predator" movie to enjoy Trachtenberg's tightly-structured, compelling cross between an anti-colonialist Western and a bloody monster flick. Amber Midthunder, in an impressive 180 from her hilarious recent turn as an influencer on "Reservation Dogs," stars as Naru, a young Comanche woman and wannabe hunter who crosses paths with a spine-ripping, skull-collecting Predator on the Great Plains in the early 18th century. Joining her in this battle of human vs. alien is Sarii, a Very Good doggo who (spoiler, but not really) does not die, which is all the more proof on its own that "Prey" is excellent.
If that's still not enough, know that "Prey" also has the same subversive outlook as "Predator" when it comes to critiquing macho strutting and the limits of trying to overpower your enemies. Toss in the reverent, Malickian imagery of untarnished natural landscapes by director of photography Jeff Cutter and the film's dynamic yet cohesive action scenes, and the results are one heck of a genre mashup.
6. Glass Onion: A Knives Out Mystery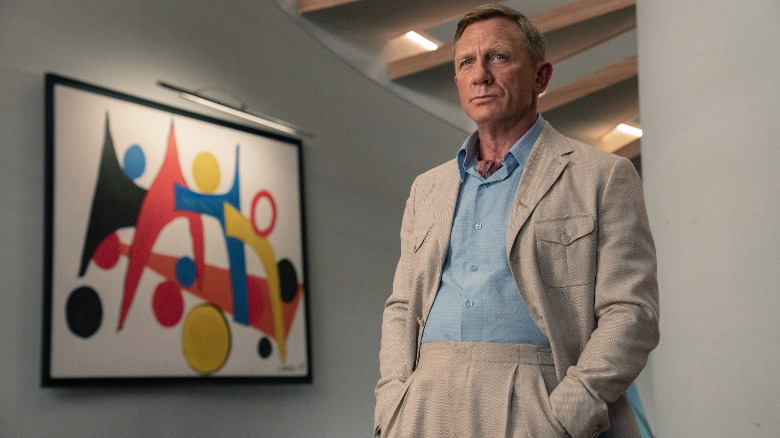 Is it possible for a movie to feel like it was created for people who are Extremely Online while also thriving as a broadly aimed crowd-pleaser? It is, as Rian Johnson proves with "Glass Onion: A Knives Out Mystery," the second chapter in his magnificent whodunit movie series and the latest example of the writer and director's ever-evolving approach to subverting genre conventions steeped in nostalgia.
Daniel Craig's dapper, Southern-fried sleuth Benoit Blanc is the only returning character in the "Knives Out" sequel, which follows the quirky detective on a trip to a tech mogul billionaire's private Greek island during the early months of the pandemic. "Glass Onion" is simply loaded to the gills with ingenious sight gags and dazzling camerawork, yet it affords its deep bench of acting talent the space they need to flesh out their colorful, terrible characters, both before and after things naturally take a turn for the murderous. And even more than its predecessor, Johnson's script provides hefty servings of razor-sharp wit, marvelous dialogue, and cathartic "eat the rich" satire.
The other thing that makes "Glass Onion" such a hoot is the way it layers its meta-textures. Its various cameos, be they in-person or voice-only, are often in-jokes stacked on top of other in-jokes, which only adds to the fun. As one member of my family (whom I saw the film with) replied when another one asked what [REDACTED] was doing in the movie, they're "having a good time." Clearly, so are Johnson and all other concerned parties.
5. Barbarian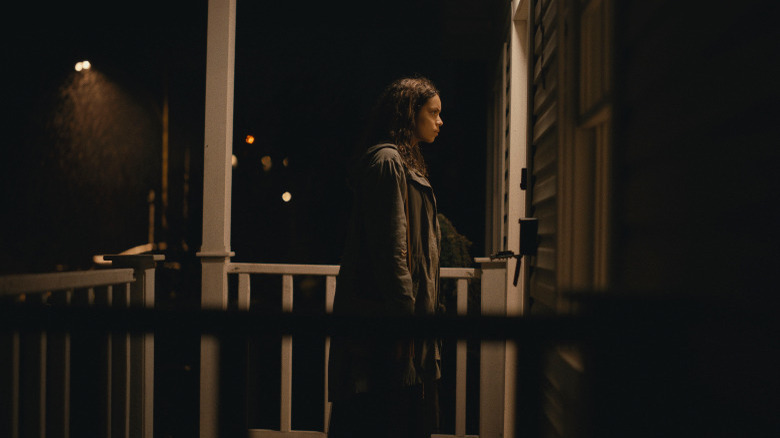 Few horror films have taken twists and turns as shocking and expectation-defying as "Barbarian" in recent memory. But it would be one thing if all the movie had to offer was a wild, unpredictable ride. It's the way it deploys its devious red herrings and narrative misdirection in service of a story about privilege — be it based on race, gender, or, when it comes to some of the film's most subtle commentary, economic status — that makes "Barbarian" not just a frightening, surprising work of cinema, but also a legitimately great one.
All one needs to know going in is "Barbarian" centers on Tess (Georgina Campbell), a woman who's naturally upset when she learns her Airbnb was accidentally double-booked by a stranger (Bill Skarsgård) during a rather stressful time in her life. Writer and director Zach Cregger constantly toys with familiar horror tropes from that point on, allowing the film to retain a relentless air of dread — one that's only punctured by some of the funniest smash-cuts and darkly comedic payoffs that I've seen in a while. Equally notable are the ways Cregger and his director of photography Zach Kuperstein slowly dispense information visually, using light and camera angles to carefully hide specific details ahead of time.
"Barbarian," like any genre film worth its salt, borrows from movies that have come before it, remixing and repurposing certain elements to create an exciting new narrative where timely concerns and issues arise organically from the plot. Warped and strange, it's as 2022 as 2022 horror films come.
4. Guillermo Del Toro's Pinocchio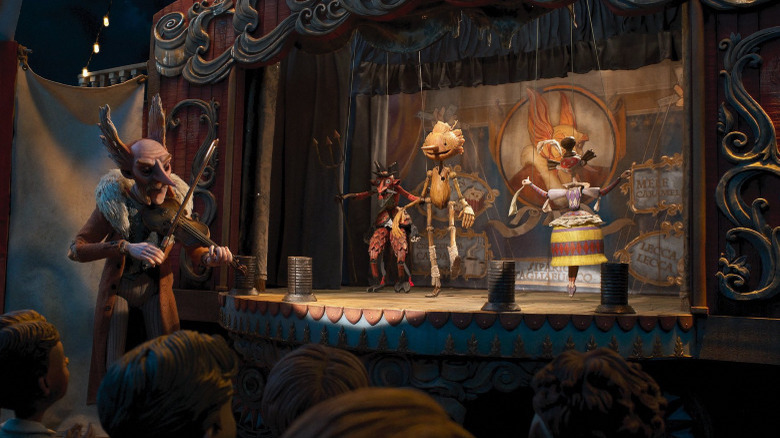 Leave it to Guillermo del Toro to take "Pinocchio," a centuries-old fairy tale that infamously teaches kids to obey their superiors and never misbehave, and refashion it into a boldly anti-fascist parable. On top of that, del Toro and co-director Mark Gustafson's re-imagining is a passionate ode to the value of imperfection, as well as a poignant fable about humanity and the ways in which our mortality is the very thing that gives real purpose to our lives.
For as often as "Pinocchio" follows the same path as Carlo Collodi's original story, it quickly (and frequently) diverges in ways both intrepid and striking. The resulting film is one that seamlessly blends the creation horror of "Frankenstein" with the anti-war sentiments and even the humble, merry tunes of a J.R.R. Tolkien fantasy epic. By that same token, del Toro and Gustafson's "Pinocchio" is as gnarly as it is jolly. It's a movie where, among other things, Ewan McGregor voices an agreeable, singing cricket, the titular character (a spirited Gregory Mann) spends much of the runtime either being murdered or nearly killed, and there's a whole scene dedicated to making poop jokes about Benito Mussolini … and yet, not a single one of these pieces feels out of place.
As for the film's stop-motion animation, it's as sumptuously detailed and full of deeper meaning as the visual components of any live-action del Toro project. Like its namesake, the world of "Pinocchio" is technically "fake" but feels real and alive.
3. RRR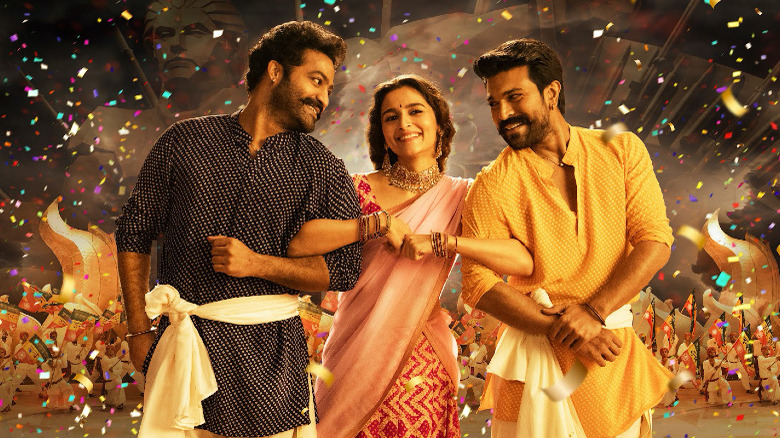 In a year where a handful of Hollywood tentpoles made a valiant effort to combat blockbuster fatigue, it was Indian filmmaker S. S. Rajamouli's historical Tollywood barnbuster "RRR" that really knocked it out of the park in that regard. Take an utterly sincere brom-com, a wholesome rom-com, an exhilarating musical, a bar-raising action movie, an earnest melodrama, and a brazen propaganda piece, and toss it all into a blender. What do you get? A three-hour extravaganza that puts the "max" in "maximalist epic."
Indian cinema superstars Ram Charan and N.T. Rama Rao Jr. share the screen in "RRR" as Alluri Sitarama Raju and Komaram Bheem, two real-life revolutionaries whom the film re-imagines as a pair of beefy BFFs who, when they're not racing on horses and motorbikes or doing squats while sitting on one another's shoulders, team up to liberate their country from the British Raj. There's so much to enjoy in the film — the "Naatu Naatu" dance number, the larger-than-life spectacle that is Raju and Bheem meeting each other for the first time, or the party-crash to end all party-crashes — it's a bit overwhelming to try and break it all down. And yet, somehow, "RRR" itself is the polar opposite of exhausting. Amidst a sea of assembly-line major studio titles, Rajamouli's movie never strains to justify its extra length or artistic flourishes.
If "RRR" proves anything, it's that we're not actually tired of tentpoles. We just want them to truly earn the right to declare themselves a cinematic "event" the way Rajamouli's work does.
2. Everything Everywhere All At Once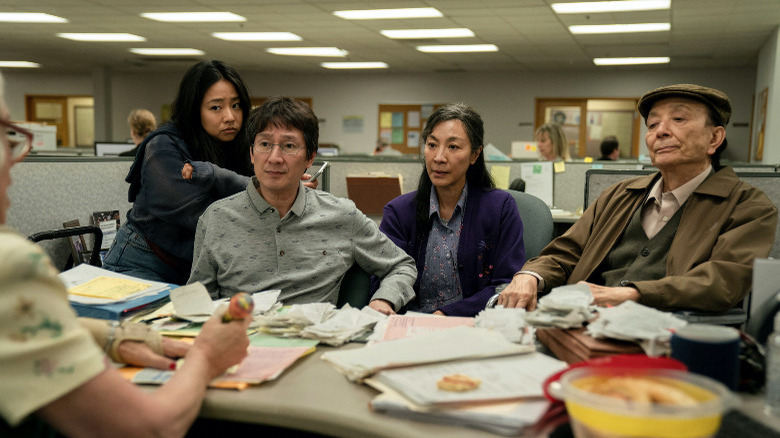 There are many ways one could (and people have) read "Everything Everywhere All at Once." An analogy for clinical depression. A metaphor for the internet. An allegory for the Asian-American experience. The year 2022 if it existed as a work of cinema. The live-action "Ratatouille" remake we deserve but Disney's too cowardly to ever produce. There's a whole lot of movie in Daniels' maximalist (there's that word again), mind-bending, multiversal mind-trip, so it's only natural the film should be interpreted in vastly different yet equally valid ways.
At a time when multiverse stories are abundant — even "Riverdale" did one — "Everything Everywhere All at Once" remains one of the few that fully embodies the concept narratively, aesthetically, and thematically. It's a movie that's got it all: moving Wong Kar-wai homages, hyper-kinetic martial arts brawls, compelling familial drama, a universe where everyone has floppy hot dog fingers, and a plot device that could perhaps be dubbed "Chekov's Buttplug." By some miracle, Daniels even manage to navigate around the sheer amount of stuff being thrown at the wall here (philosophical arguments, astonishing visuals, literal characters at times) to find space for leads Michelle Yeoh, Ke Huy Quan, and Stephanie Hsu to deliver some of 2022's best performances as the dysfunctional family at the center of it all.
If there's one thing I personally took away from the film (other than it truly is as fantastic as the cinephiles of the world won't stop telling you it is), it's that it's up to you to decide what you really value in life. Figure that out and the sheer unadulterated chaos of existence might just become a little easier to bear.
1. The Banshees Of Inisherin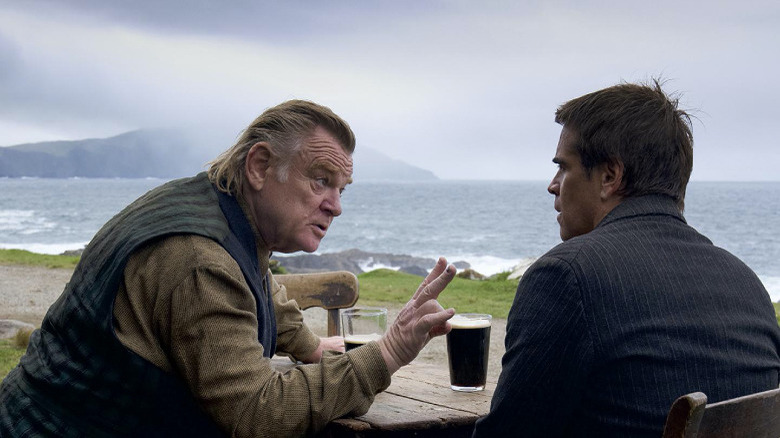 It's not often I see a movie I would describe as "sad." I'm not talking about films that deal with inherently depressing subject matter or misery-fests that lay on the contrivances under the belief that showing people suffering equals depth. To be "sad" in the sense I mean is to embrace a type of existential despair that stems not from huge tragedies or immense calamities, but the kind that comes from knowing our lives are all sad on some level, no matter how much daily joy we might garner or how we decide to spend them.
Martin McDonagh's "The Banshees of Inisherin" is that kind of "sad." It's also an often laugh-out-loud folktale thanks to its dark-as-coal sense of humor. Colin Farrell, capping off an amazing year, stars as Pádraic, a simple, animal-loving farmer on a small Irish isle, circa 1923, who's sent into an emotional tailspin when his close friend and drinking buddy, the soulful fiddler Colm (Brendan Gleeson, equally superb), ends their relationship for no clear-cut reason. What ensues is like "The Seventh Seal" redone as a breakup dramedy, with McDonagh and director of photography Ben Davis capturing the movie's bucolic setting in captivating shot compositions that further speak to its residents' spiritual plights. That includes those of Kerry Condon as Pádraic's sister Siobhán and Barry Keoghan as the immature, abused Dominic (both fabulous, funny, and heartbreaking in their own ways).
For as much as "The Banshees of Inisherin" has to say about the true meaning of "despair," the regrets we have to live with, and even Ireland's actual history, at its core it's a film that gives you permission to pause and be sad for a moment, whatever your reasons might be. I find it quite lovely that way.
Read this next: The Best Movies Of 2022 So Far
The post Sandy Schaefer's Top 10 Films of 2022 appeared first on /Film.