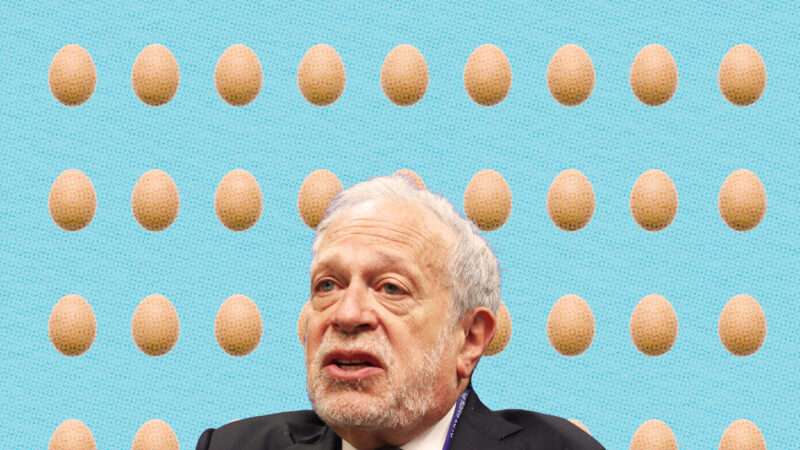 Some laws of economics are ironclad. Competition is a natural regulator of economic activity. When demand outweighs supply, prices will rise. And when prices rise, a prominent progressive will blame it on corporate greed.
For much of 2022, the price of eggs rose dramatically, according to the Federal Reserve Bank of St. Louis. Even as inflation cooled later in the year, the per-dozen price of eggs exploded, from less than $2 in January to $3.11 by August before cracking $4.25 in December.
The situation is so severe that smugglers see it as an opportunity. U.S. Customers and Border Protection (CBP) reportedly saw a 108 percent increase in seized eggs and poultry products from October to December. Jennifer De La O, director of field operations at CBP's San Diego Field Office, warned that "uncooked eggs are prohibited entry from Mexico into the U.S. Failure to declare agriculture items can result in penalties of up to $10,000."
Over the weekend, Robert Reich, a Berkeley professor of public policy who served as secretary of labor under President Bill Clinton, tweeted his explanation for the price spike: "Corporate greed."
"Cal-Maine, the largest egg producer in the US, is raking record profits," Reich said, "$198 million in its latest quarter. That's a 65% increase from a year ago."
Egg prices are up 60%. That's absurd. People are paying up upwards of $6 and $7 for a dozen eggs.

Why? Corporate greed.

Cal-Maine, the largest egg producer in the US, is raking record profits — $198 million in its latest quarter.

That's a 65% increase from a year ago.

— Robert Reich (@RBReich) January 20, 2023
Reich is not alone: The industry group Farm Action has called on regulators to investigate egg companies for price gouging. But there is a much simpler explanation for what's happening here.
A widespread avian flu outbreak devastated the poultry industry in 2022, causing the deaths of more than 43 million hens. December egg inventories were down nearly 30 percent from the year before, just in time for the holiday baking season. Under the basic rules of economics, a persistent drop in supply leading into a time of increased demand is bound to have this result.
It is inherently more likely that these fluctuations in prices are driven by market forces than that egg manufacturers all simultaneously decided to charge more. After all, when egg prices plummeted from $2 to $1.32 in mid-2020, Reich did not argue that this was a result of poultry firms' generosity and not a side effect of a giant decrease in demand at the beginning of the COVID-19 pandemic.
Higher prices account for not only the increase in demand but also the costs incurred by losing so many egg-laying hens. Reich may feel that raising prices during a shortage is unseemly, but that's exactly how businesses survive past the shortage.
The post Robert Reich Is Wrong: 'Corporate Greed' Isn't To Blame for Egg Prices appeared first on Reason.com.