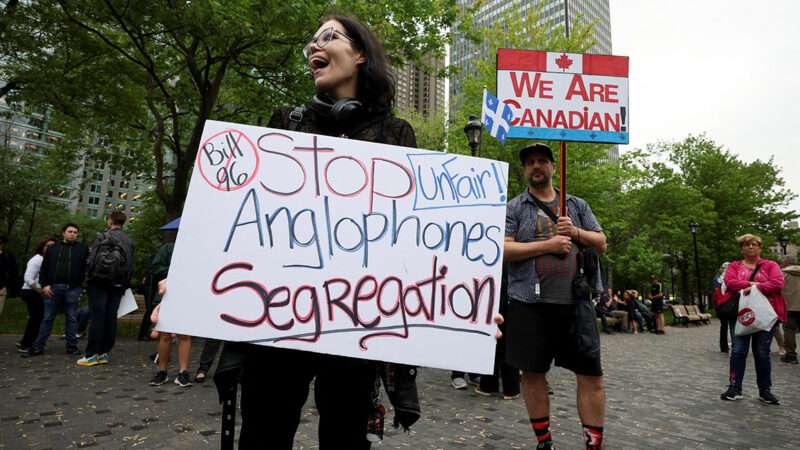 The Montreal Biodôme's scarlet macaw named Bouton "will be deported to the Toronto Zoo next Friday after she only spoke English during a government inspection," The Beaverton reported in July 2013. The outlet quoted a government official as saying that the bird "asked for crackers, not craquelins," violating Quebec's laws requiring French in the workplace.
None of that actually happened, of course; The Beaverton is to Canadians what The Onion is to Americans. Though the story of Bouton was "a spoof," The Economist reported, believers were still "shocked" by it. Such is Quebec's reputation for zealously defending the primacy of the French language.
Montreal, Canada's most bilingual city, is a place where English and French coexist easily. When you approach a bagel shop or poutine hideout, you'll most likely be greeted with "bonjour, hi"—a choose-your-own-adventure invitation that recognizes the linguistic diversity of the colorful city. Teenagers on the streets flip constantly between French and English, weaving in American slang.
This linguistic diversity is, in many ways, something the provincial government has tried for decades to stave off in attempts to preserve spoken French. Under British rule in the 1800s, French Canadians lost much of their political power and language rights. They eventually became the linguistic minority in Canada. Beginning in the 1960s, the sovereigntist Parti Québécois was created and the Front de libération du Québec, a militant separatist group, carried out terrorist acts. The so-called Quiet Revolution of that decade saw government secularization, the creation of a welfare state, and pushes for Quebecois independence.
The 1977 Charter of the French Language established French as the province's official language and laid out a huge set of regulations to enforce the use of French in "work, instruction, communication, commerce and business." According to Quebec's Ministry of Culture and Communications, language measures are "all aimed at the same goal: maximizing the French language's chances of thriving on a continent inhabited by nearly three hundred million English speakers."
It's a noble goal, and a personal one. My family goes back hundreds of years in Quebec. I have countless childhood memories of family gatherings in the countryside, all the chatter over hearty farm food in French. Losing your language cuts the central cord holding you to your ancestors, and Quebecois French is no different in that respect.
But strict linguistic regulation is counterproductive, especially if the goal is a happy and cohesive population. It would be impossible to regulate how 8.8 million Quebecers speak without engaging in some silly and strange battles. The government has tried to ban that favorite Montrealer greeting, "bonjour, hi," including at private businesses. A British-themed restaurant in Montreal was cited for using the term fish and chips on its menu and hanging a "gents" sign on a bathroom door. A manager "opening a newly-renovated [Adidas] store spoke a few apologetic words in French—then switched entirely to 'cooler' English," reported the Montreal Gazette, causing a huge stir. The provincial premier even denounced the episode in the National Assembly.
Regulations hang over every area of public life. Businesses with 25 or more employees must register with the Office Québécois de la Langue Française (OQLF), or Quebec Board of the French Language, to certify that they use French throughout the workplace. An employer may not lay off a worker because he speaks only French. Radio stations must abide by French-language song quotas. Concerned citizens can report violations of the Charter of the French Language online or by phone.
The highly publicized incidents of linguistic conflict reflect disturbing trends. A poll conducted for Le Journal de Montréal in 2018 indicated that one in two Anglophone respondents aged 18 to 35 saw relations between Anglophones and Francophones as contentious. Between 1971 and 2021, some 600,000 Anglophones left Quebec for other provinces. A number of large businesses likewise left for greener pastures (ahem, Toronto). "Bonjour, hi" might be an olive branch between Quebec's Anglos and Francos, but the peace is becoming harder to keep.
Language policy in Quebec is strict and getting stricter. The controversial Bill 96, passed in May 2022, further regulates businesses and individuals. Companies with 25 or more workers may have to submit regular reports to the government on their use of French. If the government receives a complaint that a workplace isn't using French, it can trigger an investigation, "and inspectors can search and seize documents without a 
warrant," noted Politico. Executives at more than 150 companies sent a letter to Premier François Legault warning that the law could seriously damage Quebec's economy and scare away investors.
As for Bouton the parrot, reality can truly be just as strange as fiction. In 1996, a customer at a pet shop in Napierville, Quebec, complained that a parrot named Peek-a-Boo spoke only English. The customer even threatened to file a complaint with the OQLF, according to the bird's owner, Francesca Barron. The complaint was never filed, and, per the Montreal Gazette, the parrot never did learn French.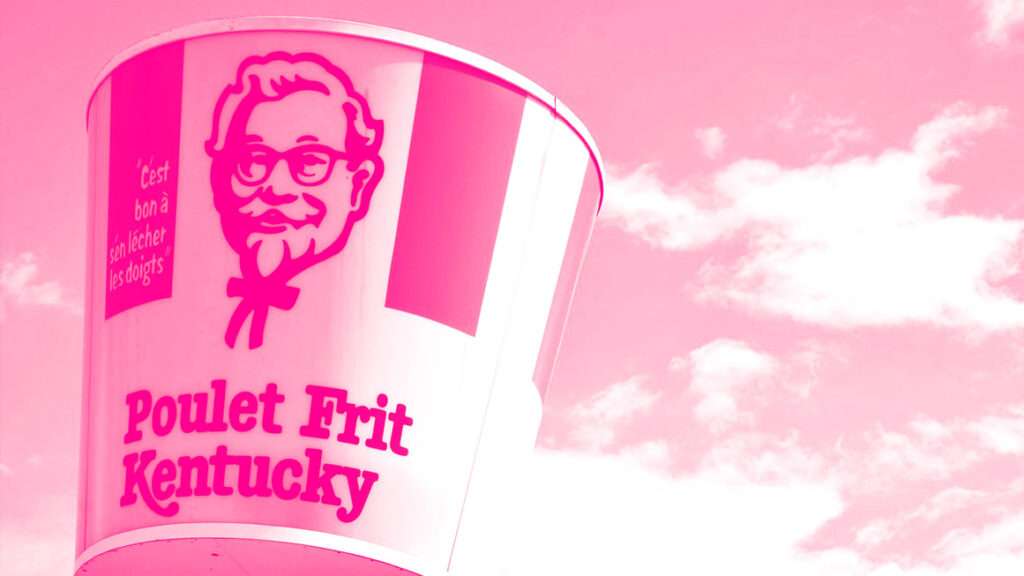 Faux Pas
1977
With the passage of the Charter of the French Language, Kentucky Fried Chicken had to give up its English label. It became Poulet Frit Kentucky in Quebec.
2000
A former member of the Front de libération du Québec, a far-left separatist group, carried out a series of firebombings against several Second Cup café locations because the Canada-based chain's name was in English. Second Cup added the words Les cafés to its signs soon after.
2013
Quebec's language-enforcement agency notified Massimo Lecas, owner of the Montreal-based Buonanotte, that his restaurant was violating the charter. Officials pointed to the Italian words pasta, calamari, and antipasto on Lecas' menu, saying he would need to replace them with French words to conform to provincial language law. Although the government insisted it was just responding to citizen complaints, the incident sparked such backlash and publicity that it came to be known as pastagate.
2014
The Quebec Superior Court ruled that major retailers weren't violating the charter if their storefront signs featured trademark names in languages other than French. The plaintiffs included Best Buy, Costco, Walmart, and Old Navy.
2021
A new policy mandated that only music by Quebecois artists may be played in provincial government buildings and on government-run phone lines. "The time for royalty-free elevator music is over," said Quebec Culture Minister Nathalie Roy.
The post Quebec's Language Restrictions Limit Freedom of Expression appeared first on Reason.com.