In a new decision, United States v. Cerda, a New York City police sergeant submitted a warrant application in which he described what he saw on a video of the suspect carrying an item into his house as follows:
I further state that I viewed video surveillance from the above mentioned
camera from outside the subject location from December 8, 2020 at approximately
3:53 PM which depicts the target exiting a vehicle, which is parked in the driveway
at the subject location, and holding between the target's legs, what I recognize to
be, based on my training and experience as a police officer, a long rifle. Said video
then depicts the target zip up the target's jacket so as to conceal said rifle, then the
target walks into the subject location.
What does this long rifle look like?   Here's a screenshot from the video (a screenshot not included with the warrant application) with the item marked in red: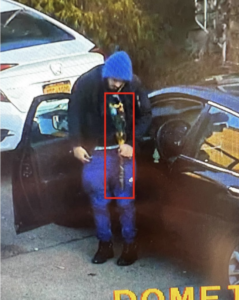 Held: Motion to suppress the fruits of the search granted, as the man was carrying a bouquet of flowers, not a gun.  The officer was reckless in describing it as "a long rifle," based on his "training and experience," and suppression of that false assertion is therefore required under Franks v. Delaware.
Incidentally, this case is another possible example of the phenomenon I described back in December, how video cameras are changing Fourth Amendment law.   As I wrote then, video evidence allows courts to scrutinize police conduct much more closely than before: "The available technology changes how the doctrine can be applied, and that, in a practical sense, helps to change what the doctrine is." 
That's part of the dynamic here, I think. If the officer had personally observed the suspect enter the house, and he had obtained a warrant based on that, a reviewing judge would have been unable to second-guess the officer's claim that, based on his training and experience, he saw the man with a gun.  (And indeed, a different illegal gun was found in the house when the search occurred.)  The availability of video evidence changes that.  The reviewing judge can watch the video himself, and he doesn't need to rely on the officer's claim of expertise.
The post Based on My Police Training, I Recognize That Bouquet of Flowers as a Rifle appeared first on Reason.com.