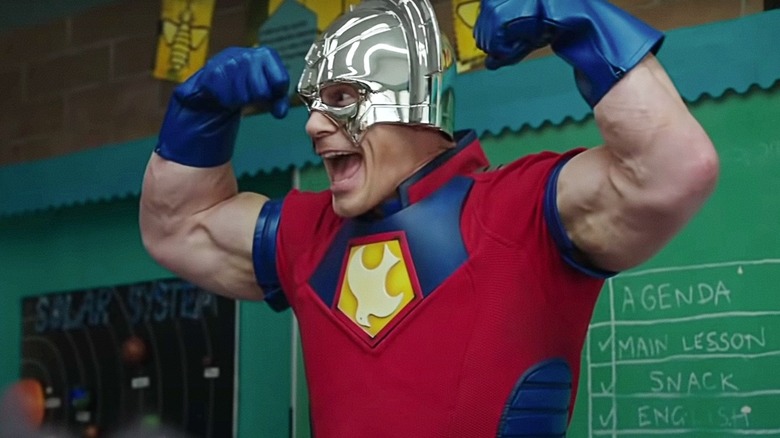 2022 is about to start off with a bang, as HBO Max and DC have dropped a new trailer for "Peacemaker." John Cena was the surprising stand-out of James Gunn's "The Suicide Squad" as the soon-to-be titular character in this show, and luckily for us, a bored-in-quarantine Gunn must have foreseen how much we'd all love the foul-mouthed anti-villain. What was supposed to be a fun writing project to keep himself busy after turning in his script for "Guardians of the Galaxy: Vol 3" became a bonafide spin-off series, and has quickly become one of the most anticipated new shows of 2022. The show was first announced in September of 2021 as part of the WarnerMedia strategy to spin off its DC properties into TV shows to entice new viewers to subscribe to HBO Max and give peace a f****** chance.
"Peacemaker" takes place before the events of "The Suicide Squad" and will show how the character became "a man who believes in peace at any cost — no matter how many people he has to kill to get it." Gunn and "The Suicide Squad" producer Peter Safran will serve as executive producers of the series, with Cena as co-executive producer. Gunn wrote all eight episodes and also served as director on five of them. Based on the teasers we've already seen and now with the new trailer, "Peacemaker" looks like some pure Gunn goodness.
Peacemaker Trailer
James Gunn was overheard saying, "I can't believe they're letting me shoot this," on the set of "Peacemaker," and boy, we are sure glad they did. Naughty language, bad behavior, high-octane action, and Gunn's particular brand of schlock humor are all proudly on display, and I must admit, it's super refreshing to see a superhero show that doesn't feel like it's been sanitized down to appeal to as broad of an audience as humanly possible. The series also features an absolutely stellar cast, including Steve Agee ("The Suicide Squad"), Danielle Brooks ("Orange is the New Black"), Robert Patrick ("Terminator 2: Judgment Day"), Jennifer Holland ("Brightburn"), Chris Conrad ("Patriot"), Chukwudi Iwuji ("Designated Survivor"), Alison Araya ("Watchmen"), Lenny Jacobson ("Nurse Jackie"), Nhut Le ("Kroll Show") and more.
True to Gunn's usual form, the new trailer for Peacemaker is packed with guns, explosions, and a desperate lack of sensitivity training. Whether it's Peacemaker's pet eagle, Eagly, pecking his coworkers in the butthole or Peacemaker talking about getting eye-f***** by Wonder Woman in front of a group of schoolchildren, this task force could really use an HR department.
"Peacemaker" is the most excited I've felt about a new superhero property in a very long time, and it's all because of James Gunn's weird AF brain, and John Cena's willingness to commit 100% to every performance, no matter how ridiculous.
"Peacemaker" debuts on HBO Max on January 13, 2022.
Read this next: Joker's Wild: Ranking The Cinematic Versions Of The Clown Prince Of Crime
The post Peacemaker Trailer: All of This is Extremely Inappropriate appeared first on /Film.