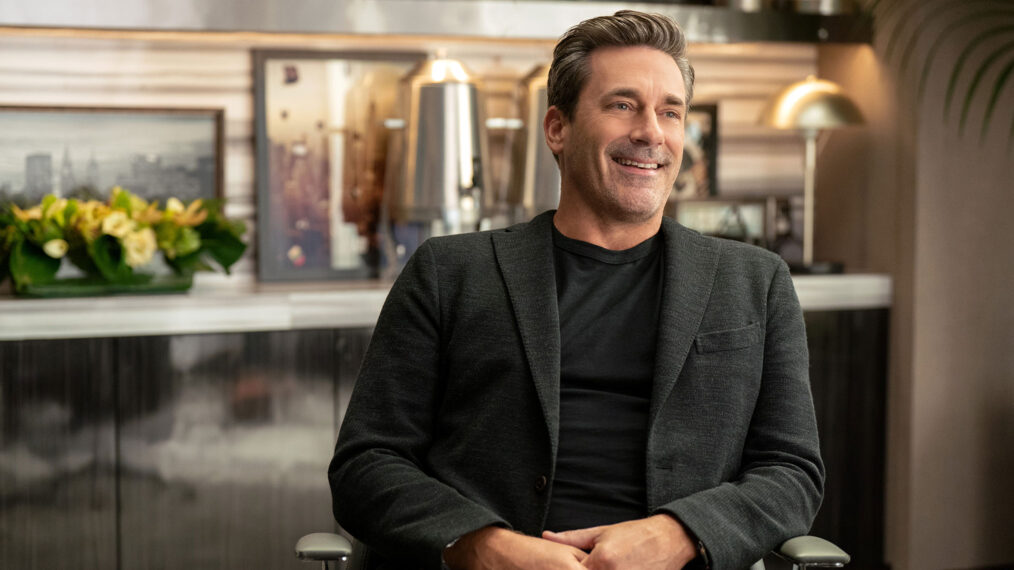 The Morning Show
"We should do the news, not be the news," declares Cory Ellison (Billy Crudup), the Machiavellian CEO of embattled network UBA in an upcoming episode of the slick drama set inside a TV fishbowl of gossipy scandal. You might wonder if Cory knows what show he's on, because so many scandalous shoes drop in the blistering third season (launching with two episodes) you wonder why they don't just read the headlines barefoot. Mad Men's Jon Hamm joins the cast as an Elon Musk-like billionaire—complete with his own space rocket—who may be interested in buying the drowning-in-debt network, if he can keep his eyes off UBA superstar Alex Levy (Jennifer Aniston). Her former rival Bradley Jackson (Reese Witherspoon) is now the evening anchor, harboring enough toxic personal and ethical secrets to wreck many a career. Dirty laundry has rarely looked so good.
The Other Black Girl
You won't know whether to laugh or scream—it's OK to do both—at this sensational comic thriller, adapted from Zakiya Dalila Harris' buzzy bestseller. Over 10 brisk half-hour chapters (all available for binge-watching), the series morphs from a Devil Wears Prada-like workplace satire into an audacious, racially charged twist on The Stepford Wives. Sinclair Daniel stars as Nella, an ambitious editorial assistant at an elite (and very white) New York publishing house, who's thrilled when another person of color, the chipper Hazel (Ashleigh Murray), is hired—until Hazel begins to undermine Nella. Does Hazel have her colleague's back, or is she trying to stab her in it? An anonymous note urging Nella to "Leave Wagner (Books) Now," suggests something even more insidious afoot, leading to a literally hair-raising climax.
Reservation Dogs
The FX dramedy about Indigenous teens adrift in Oklahoma finds the perfect balance of comedy and drama in an episode that returns to the show's roots, with the Dogs plotting another elaborate and hapless caper—although this one "feels meaningful, I guess," observes Elora (Devery Jacobs). With wannabe "uncle" Kenny Boy (Kirk Fox) providing the wheels, the combined reservation gangs head to Tulsa on a perceived mission of mercy to honor their elders, with results that are as amusing as they are poignant. Hard to believe these are the final episodes of this fine series.
Invasion
The kids are not alright as the sci-fi drama ratchets up the thrills. Instead of jumping around the world, the episode focuses entirely on the British youths, led by the brave Jamila (India Brown), who are determined to rescue their pal Caspar (Billy Barrett), still lying in a coma in a Paris lab housing other youngsters with psychic connections to the alien invaders. Their journey takes them into the Channel Tunnel connecting England and France, and a passage littered with bodies and wreckage would be scary enough, even without the arrival of a new and more ferocious species of extraterrestrial monster on their trail.
INSIDE WEDNESDAY TV:

Ultimate Cowboy Showdown: All Stars (8/7c, INSP): The competition takes a back seat to concern when a cowboy contestant goes missing while herding horses in the Arizona desert.
Donyale Luna: Supermodel (9/8c, HBO): A stylish documentary profiles the pioneering model, the first Black woman to make the cover of Harper's Bazaar and Vogue in the mid-'60s. Born Peggy Ann Freeman in Detroit, Luna created her own mystique, which endures long after her premature death at 33 in 1979.
Archer (10/9c, FXX): Barry returns for the animated spy comedy's final season, his consciousness now transferred into a new and most unusual vehicle, sending the gang on a mission to take down the cyborg Other Barry in his latest scheme to wipe out humanity. Why is Archer (H. Jon Benjamin) less than jazzed? Maybe because, as he laments, "Other Barry tends to beat the everlasting s—t out of me, all the time."
Animals Up Close with Bertie Gregory (streaming on Disney+): The renowned nature cinematographer travels the globe in a six-part series from National Geographic, capturing remarkable animals in their remote habitats in the Galapagos Islands, Patagonia, Indonesia, Botswana, the Central African Republic—and Antarctica, where he films the rare sight of humpback whales interfering in the hunt of a pod of B1 orcas.
Also new to Disney+: Pixar's animated fantasy Elemental, following a theatrical run this summer, and Marvel Studios' Assembled: The Making of the Guardians of the Galaxy Vol. 3.
Wrestlers (streaming on Netflix): A seven-part docuseries has the feel of a real-life Heels, going inside Louisville's Ohio Valley Wrestling operation, which has spawned superstar talent (John Cena, The Miz, Dave Bautista) but has recently fallen on hard times, as wrestling/owner Al Snow rallies his local crew to try to keep the historic gym alive.