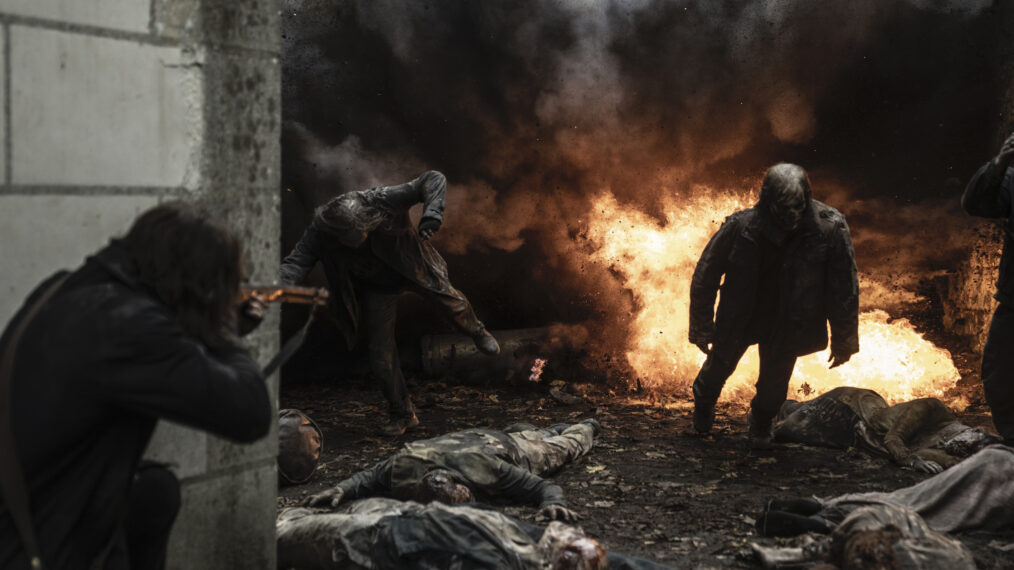 The Walking Dead: Daryl Dixon
SUNDAY: The AMC Networks are teaming up for what they're calling "A Night with Norman," simulcasting the premiere of the latest Walking Dead spinoff, which finds fan favorite Daryl (Norman Reedus) washed up on the shores of France for a new adventure amid a European zombie apocalypse. With a fresh locale and intriguing new characters who don't all feel like instant zombie fodder—especially Clémence Poésy as a nun who once was a thief—Daryl Dixon is a step up from the disappointing Dead City spinoff. Unlike Negan in an infested New York City, Daryl doesn't have to try to convince us he's a hero. (See the full review.) Followed by the Season 6 premiere of Ride with Norman Reedus (10/9c, AMC), when the motorcycle buff travels through the Utah desert with Keanu Reeves.
US Open Tennis
SATURDAY & SUNDAY: Coco Gauff continues her crowd-pleasing run in the women's final on Saturday at the Billie Jean King National Tennis Center, taking on ferocious No. 2 seed Aryna Sabalenka at 4/3c. Then it's the men's turn on Sunday, with No. 2 Novak Djokovic aiming for his fourth U.S. Open title and 24th Grand Slam championship against No. 3 Daniil Medvedev, who upset top seed Carlos Alcaraz in Friday's semifinal.
Sunday Night Football
SUNDAY: The marquee match on a busy day of the NFL season's first official Sunday (with double-headers on CBS and Fox, check local listings) features the Dallas Cowboys battling NFC East rival New York Giant at MeLife Stadium in New Jersey. This is the fifth time the Cowboys and Giants have launched a Sunday Night Football season, with Football Night in America as the curtain-raiser at 7 p.m./ET.
The Masked Singer
SUNDAY: The milestone 10th season of the over-the-top music-comedy competition doesn't officially begin until September 27, but the celebration starts early with a kickoff special. Alums from past seasons return for unmasked duets, with Michelle Williams and Rumer Willis, Joey Fatone and Bow Wow, Victor Oladipo and Barry Zito performing as themselves. The show also promises a special celebrity performance and unmasking. Among the costumed contestants we'll be seeing in Season 10: a Donut, Anteater, Hawk, Hibiscus and S'More.
Dreaming Whilst Black
SUNDAY: Fantasy dream sequences bring variety, surprise and humor to a smart, heartfelt British dramedy—or is it dream-edy?—starring and co-written by co-creator Adjani Salmon, who plays the lead role of wannabe filmmaker Kwabena ("Kwabs" to friends). The six-episode series (airing two a week) opens with Kwabena dreaming of making his short film Jamaica Road a reality, but in reality, he's barely working in a drab office job. (A well-meaning co-worker asks about his ambitions by noting, "If you were any good, you wouldn't be here.") He's not giving up, though, leaning on film-school contacts and any other lifeline to pursue his goal—and maybe woo the fetching Vanessa (Babirye Bukilwa) while he's at it.
Unforgotten
SUNDAY: The chill between DI Sunny Khan (Sanjeev Bhaskar) and his unfriendly new boss, DCI Jessie James (Sinéad Keenan), gets even frostier in the second episode of this superior British crime drama. As forensics reveals the identity and the cause of the death of the person found stuffed in a chimney, connections begin to be made to several of the characters previously introduced. The case is a messy one, but the personal lives of Khan and especially James create distractions that further complicate their working relationship.
INSIDE WEEKEND TV: