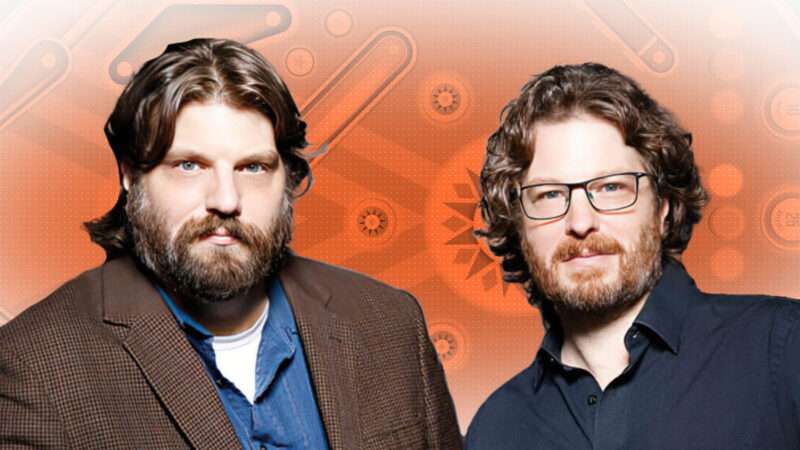 Most people have no idea that pinball was illegal in New York from the early 1940s until 1976, when a journalist named Roger Sharpe finally won his crusade against the city to free the flippers.
The story of that insane ban is the subject of the new movie Pinball: The Man Who Saved the Game, which Richard Brody of The New Yorker called "better than all ten of the Best Picture nominees."
The film is written and directed by Austin Bragg and Meredith Bragg, longtime producers at Reason best known for collaborating with Remy on his massively popular song parodies and for making libertarian versions (often featuring Andrew Heaton) of Star Trek, Star Wars, Game of Thrones, and other pop culture franchises. A production of MPI Original Films, Pinball is available for streaming on Apple TV, Google Play, Amazon Prime Video, and other platforms.
I talked with the Bragg brothers about how they came to tell Roger Sharpe's story, what goes into making the perfect satire in an era when reality is far stranger than anything we can imagine, and the libertarian message of Pinball: The Man Who Saved the Game.
Today's sponsors:
DonorsTrust. Want a principled and tax-friendly way to simplify your charitable giving? Open a DonorsTrust giving account. Giving accounts are simple, secure, and tax-advantaged: You deposit money with DonorsTrust, tell them where to send your gifts, and they take care of all the paperwork for you. The added bonus? When you open an account with DonorsTrust, you become part of a community of like-minded givers that honor and share your belief in free markets and limited government. Visit DonorsTrust.org/nick to get a free donor prospectus and learn more about DonorsTrust.
The Reason Speakeasy. The Reason Speakeasy is a live, monthly, unscripted conversation with outspoken defenders of free thinking and heterodoxy. It doubles as a taping of The Reason Interview podcast. The next one is in New York City on Monday, April 3, when Nick Gillespie interviews University of San Diego philosopher Matt Zwolinski and Heterodox Academy President John Tomasi about their new book, The Individualists: Radicals, Reactionaries, and the Struggle for the Soul of Libertarianism. Doors open at 6 p.m. Eastern. Tickets are $10 and include beer, wine, soft drinks, and appetizers. It's always a great evening of camaraderie and conversation, so come on out. For more details and to buy tickets, go here.
The Reason Live Stream. Every Thursday at 1 p.m. Eastern, Nick Gillespie and Zach Weissmueller host live, unscripted conversations at Reason's YouTube channel with leading policy makers, activists, writers, and thinkers about everything from attempted internet censorship to COVID policy failures to the future of the Libertarian Party to cryptocurrency crackdowns to the failure of K-12 education. Find the online archive here.
The post Bragg Brothers: Remy Videos, Libertarian Parodies, and Their Acclaimed New Film, <i>Pinball</i>. appeared first on Reason.com.