Navniet Sekera IPS is the illustrious officer who served the state of Uttar Pradesh and it is under his tenure the dreadful crime culture got stomped down by annihilating several notorious gangs. Bhaukaal Season 1 based on true incidents has depicted his heroic deeds in an impactfully and ended with the killing of Shaukeen, the dangerous gangster.
https://theenvoyweb.com/reviews/bhaukaal-review-a-bold-cop-story/
Bhaukaal Season 2, a MX Player original streaming in five languages on MX Player digital platform bankrolled by Applause Entertainment and Baweja Studios focuses on Naveen Sikhera's next target, the Pintu Brothers aka Dedha Brothers who unleashed terror in Muzzafarnagar.
Synopsis
With the death of Shaukeen (Abhimanyu Singh), the race for supremacy is on and both Pintu (Pradeep Nagar) and Chintu (Siddhanth Kapoor) of Dedha gang want to prove their power. Extortions, killings, kidnappings, and crime have once again started reigning in Muzaffarnagar and the atrocities of Dedha brothers has reached a new high.
SSP Naveen Sikhera (Mohit Raina) along with his team has to overcome several challenges in the course amid pressure from press, public and from his own department. How he prevails and makes Uttar Pradesh a crime free state by eliminating the terror gangs is what Season 2 of Bhaukaal is about.
Performances
Mohit Raina is the perfect match for the character of Naveen Sikhera and this has been established by him in the first season itself and in the present season he has gone one step ahead in proving this one more time. Though there is less intensity in his character when compared to the season 1, his brilliant performance in some crucial emotional scenes has elevated the mood of the series to a new high.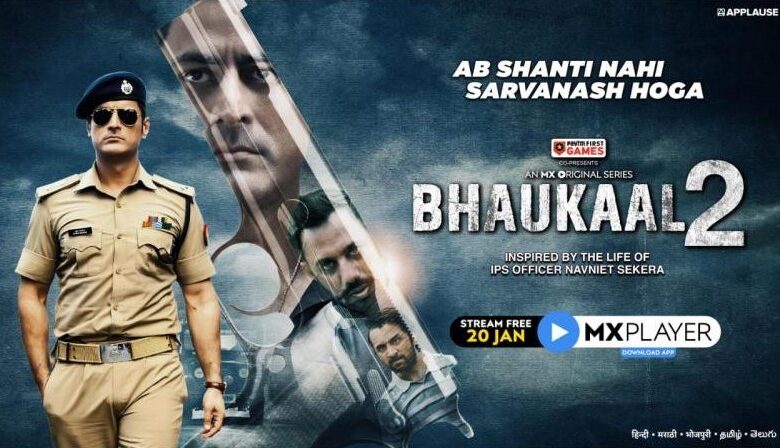 Siddhanth Kapoor and Pradeep Nagar along with Rahul Gujjar as Gurjan are the other actors who added more punch to the narrative with their outstanding performances.
Late Major Bikramjeet Kanwarpal in his last appearance has left his mark in the character of Aslam Khan demonstrating that his characters remain in hearts forever though he was not there among us physically.
In other characters, Bidita Bag as Nazneen (her character starts promisingly but fizzles out in later episodes), Digambar Prasad as Bhaati, Firoz Khan as Balram Amitt Singh as Vinod, Ajay Singh Chaudhary as Ashfak, Gulki Joshi as Neha, Rashmi Rajput as Puja and many others though had very limited screen time like Sanyam Srivastav as Kareem, Sahil Brown as Ashok, Sachin Sher Singh as Azhar have done stupendous job with their remarkable performances.
Behind the scenes
Though it is the extension of Season 1 which was more gripping, the writers Akash Mohimen, Jay Sheel Bansal, and Jatin Wagle (who is also the director) were successful in sustaining the momentum albeit some loose ends in Season 2.
Jatin Wagle has conceived some scenes quite effectively like the one between Bhaati and Balram outside the hospital when Pintu was carrying newborn baby in his hands, the scene where Navneit describes about Mahabharat to the school children, and the one where the adolescents were advised to hold the books and not guns are touchingly presented.
Sumit Samaddar's photography, Roshin Balu's music, editing by Umesh Gupta, and production designing by Praveen Kumar are top-notch. The climax action scene remains as the highlight of the series.
Final Verdict 
There was more blood, gore, and cuss words in the present season that may act as deterrent, Bhaukaal on the other side is a morale booster for the police force and reiterates that duty and people are the first. The dialogue by Naveen Sikhera, "I might have done mistakes but I have not done anything unethical" is the real eye-opener.
Bhaukaal was successful in presenting the life story of a highly distinguished man of morals, ethics, and duty conscious Police Chief Navneit Sekera who is now serving as Additional Director General of Uttar Pradesh Police and the winner of President's Police Medal to the present generation. So if you don't know who Navneit Sekera is, better watch Bhaukaal instead of searching on Google.